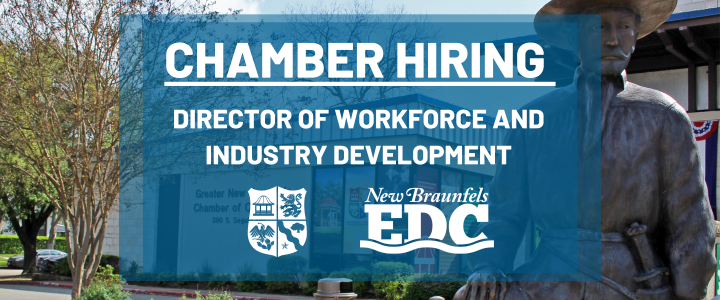 An important part of creating a thriving business environment is ensuring a quality workforce that suits the needs of local employers. This is why the New Braunfels Chamber Economic Development Department is searching for a self-starting individual with an understanding of workforce needs to fill the role of Director of Workforce and Industry Development.
The person in this position will need a high-level of project ownership as they will act as the liaison between employers and training facilities, as well as the main point of contact between the Chamber and local educational providers and colleges.
If you have experience in workforce development, are passionate about fostering a thriving business community, and are a skilled leader, we want to see your application!
Learn more about this role and its responsibilities HERE.
Interested individuals should send a cover letter and resume to Michele Boggs, Vice President, Economic Development at Michele@InNewBraunfels.com.
We're hiring for multiple positions!
View our Careers Page to find the right role for you.