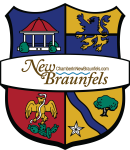 FOR IMMEDIATE RELEASE: June 21, 2018                                                               
CONTACT: Jenna Vinson, (830) 625-2385, Jenna@InNewBraunfels.com

NEW BRAUNFELS CHAMBER WINS STATEWIDE TOP SOCIAL MEDIA AWARD
NEW BRAUNFELS, Texas – The Greater New Braunfels Chamber of Commerce, Inc. was announced Tuesday night as the first place winner of the Texas Chamber of Commerce Executives Excellence Award for Social Media Campaigns. The announcement was made at the TCCE Annual Conference in Grapevine, Texas, with hundreds of chamber of commerce professionals in attendance.
Annually TCCE recognizes organizations for exceptional efforts in marketing, communications and media outreach. Chambers from across the state submitted their campaigns and collateral to be judged in seven separate categories: social media campaigns, websites, brochures, maps, directories/magazines, marketing campaigns, and printed or electronic newsletters/newspapers.
The Excellence Awards are divided into four different categories based on organizational budget size, with the New Braunfels Chamber falling into the $800,000 and above category. In addition to the first place finish for social media, the New Braunfels Chamber was also a finalist for its website. The Chamber manages a strong social media presence on Facebook, Twitter, Instagram, LinkedIn and YouTube with a combined following of nearly 27,000 people.
During the awards ceremony, several Chamber staff members were honored with tenure awards. Michael Meek, President/CEO, and Phyllis Foerster, Vice President of Membership, were both recognized for 30 years of service. Tyler Hoffman, Digital Marketing Coordinator of the Convention & Visitors Bureau, Nina Eastman, Director of Convention & Visitors Bureau Sales, and Val Preusser, Highway Visitors Center Coordinator, all received awards for 10 years of service.
TCCE is the professional society of chamber of commerce executives, professional staff and affiliated members in the state of Texas.  Established in 1906, TCCE is the longest standing association of chamber of commerce professionals in the nation.