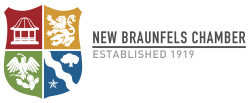 FOR IMMEDIATE RELEASE: May 23, 2019                                                              
CONTACT: Erica Clarke
(830) 625-2385
Erica@InNewBraunfels.com
NEW BRAUNFELS CHAMBER WINS NATIONAL AWARD FOR COMMUNICATION EXCELLENCE
NEW BRAUNFELS, Texas – On Tuesday, the Greater New Braunfels Chamber of Commerce was announced as one of the winners of the Association of Chamber of Commerce Executives 2019 Awards for Communication Excellence. ACCE serves individuals who manage chambers of commerce, including 7,500 leaders from 1,300 chambers with members from all 50 states, seven Canadian provinces, and a dozen countries outside North America.
More than 160 entries were submitted, with 51 winners among four categories and three separate class sizes. The New Braunfels Chamber submitted an entry in the digital category for the featured film, Success Flows Here, commemorating the Chamber's 100th Anniversary. The film's purpose was to highlight a few of the Chamber's significant historical accomplishments, as well as show the role the Chamber plays in community betterment, supporting local business, bringing new industry to New Braunfels, and ensuring Success Flows Here. Many citizens are not aware of all the vital services the Chamber has provided over the years and the accomplishments that have led to a high quality of life enjoyed by all residents. This video gives testimony to how the Chamber has advocated for business since day one.
"With more than 7,000 Chambers of Commerce in the US and hundreds more in other countries that are members of ACCE, receiving a media award in the digital category from ACCE is significant," said Michael Meek, New Braunfels Chamber President. "Having Iniosante Productions here and so vested in their love for New Braunfels, we are beyond fortunate. It is doubly satisfying to have been honored with a video on the Chamber's Centennial and history of accomplishment over the last 100 years."
Only two other Chambers in Texas, Greater Houston Partnership and Greater Irving-Las Colinas Chamber of Commerce, were recognized by ACCE. The New Braunfels Chamber previously won an ACCE Award for Communication Excellence in 2016 for a new image campaign.
###