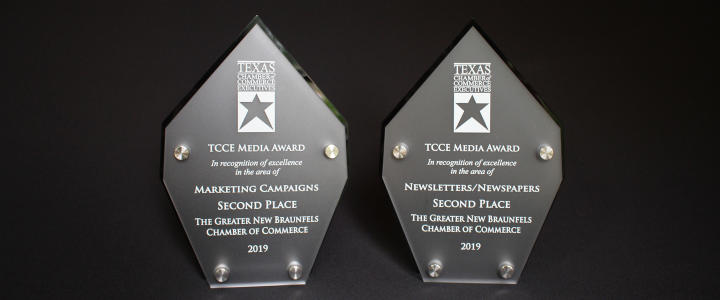 The New Braunfels Chamber of Commerce was announced Wednesday as the second place winner of the Texas Chamber of Commerce Executives Excellence Award for both Marketing Campaigns and Newsletter. TCCE received more than 140 submissions from Chambers throughout the state of Texas. The announcement was made at the TCCE Annual Conference in El Paso, Texas, with hundreds of chamber of commerce professionals in attendance.
Annually, TCCE recognizes organizations for exceptional efforts in marketing, communications and media outreach. Chambers from across the state submitted their campaigns and collateral to be judged in seven separate categories: social media campaigns, websites, brochures, maps, directories/magazines, marketing campaigns, and printed or electronic newsletters/newspapers.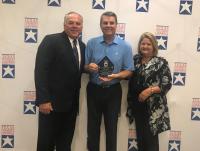 The Excellence Awards are divided into four different categories based on organizational budget size, with the New Braunfels Chamber falling into the largest category of $800,000 and above. The Chamber submitted copies of the weekly e-newsletter, Serving You, for the newsletter category, and the Membership Testimonials for the marketing campaigns category. The e-newsletter has a circulation of more than 4,000 weekly. Membership Testimonials have reached more than 20,000 people.
TCCE is the professional society of chamber of commerce executives, professional staff and affiliated members in the state of Texas.  Established in 1906, TCCE is the longest standing association of chamber of commerce professionals in the nation.