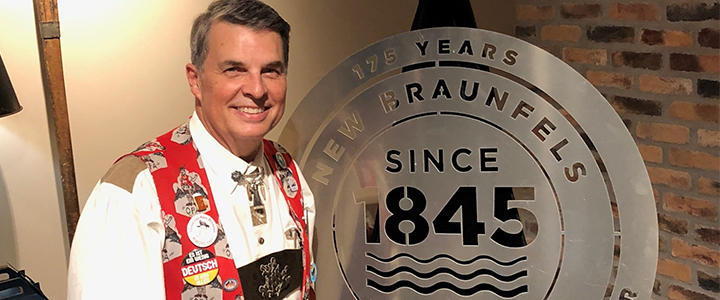 America's second fastest growing city celebrates its founding in grand style every 25 years. New Braunfels will celebrate its 175th anniversary in 2020 and the New Braunfels Chamber of Commerce is appointed to carry out the festivities.
Planning has been underway since 2016 under the leadership of the 175th Commission Chair Anne Miller. There are more than 100 volunteers working on various components of the 175th celebration.
Historical Committee Chair Karen Boyd has been meeting consistently for nearly two years and their first project is nearing its final draft. The project is a coffee table book containing 365 unique images of New Braunfels. This book is headed to the printer next Spring and will be available for advance sale at the 2019 Weihnachtsmarkt. 
Industrial/Architectural Committee Chair Stuart Hansmann is earnestly working on the anchor project for 2020, which will welcome motorists to New Braunfels with gateway signs on IH 35.  This is a diverse committee that brings more than 125 years of engineering, design and architectural expertise to the table.
Memorials Committee Chair David Hartmann is working on the official medals, coins, and momentos that will be for sale supporting the celebration. They will also be working on markers and memorials to be placed throughout the City.
Events Committee Chair Allison Dietert Humphries held initial meetings to secure dates for the proposed galas and continues to work on parades, a possible concert series, and more.
Finance Committee Chair Doug Miller and his committee successfully completed the first phase of celebration fundraising in May, securing the 75 Braunfelser Sponsors which generated over $520,000. This initial sales effort secured the funding for the anchor gateway signs and the initial marketing effort of the brand for the celebration with the large medallions financed for this year. Sponsors will be recognized in a number of ways and there will be a second phase launching in September.
The Chamber's Convention and Visitors Bureau is excited to lead the celebration and the many moving parts required to properly commemorate 175 years of New Braunfels.
Asset Committee Chair Benno Engel is responsible for the marketing, public relations, promotions and communications for all 175th activities. This committee will also hold meetings with all the attractions, organizations and nonprofits in our community to discuss what activities they plan to have in 2020 that support the 175th anniversary. The Asset Committee will work in coordination with the Events Committee to provide a year-long calendar of festivities, fun, and gemutlichkeit.