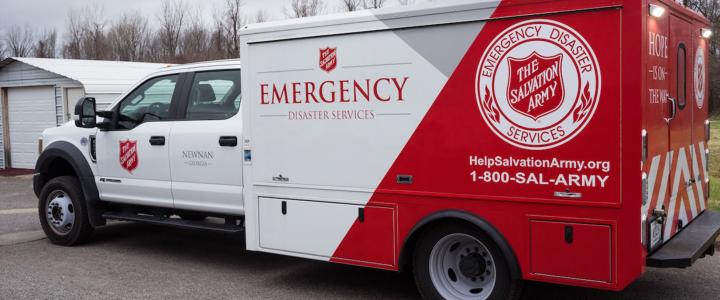 The Salvation Army has served San Antonio, New Braunfels, Comal and Bexar counties since 1889 providing life sustaining services like; feeding the hungry, sheltering the homeless, financial assistance in times of personal crisis, character building programs for youth, nutrition and wellness programs for seniors, sharing the gospel of Jesus Christ in weekly worship and Bible Studies and demonstrating the love of God in real and tangible ways daily.
The Salvation Army has continuously provided emergency services to individuals and communities affected by disasters and other catastrophic events since its first charter was enacted in the United States in 1899. The first major disaster The Salvation Army responded to in the United States was in September 1900 in Galveston, Texas. A hurricane (unnamed in those days) literally destroyed the city of Galveston and 5,000 people died. The National Commander of The Salvation Army at that time sent Salvation Army Officers from all over the country to Galveston to bring comfort and counseling and help in any way that they could. Since that time, The Salvation Army has responded to thousands of disasters across the United States, honoring a century-old commitment to serve those in need, at the time of need, in the place of need. This has ranged from responding to fires, ice storms, and hurricanes to the tragedies of Oklahoma City, 9/11, and Sutherland Springs.
 Thursday, May 12th at 10 am with the dedication of this new disaster unit, The Salvation Army will be able to continue to respond in the time of crisis in New Braunfels, the surrounding areas, the state of Texas and wherever the need arises.