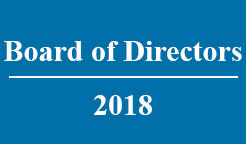 In late October, ballots were tabulated by a committee of Chamber members for the Chamber of Commerce Board of Directors with terms ending December 31, 2020. Greg Lutz of Schertz Bank & Trust and Douglas Miller of Miller & Miller Insurance Agency were both re-elected to serve another term while Lori Archer of Alamo Hy-Tech Foundation Repair, Shelley Bujnoch of Paychex INC, Stephen Hanz of HMT Engineering & Surveying, and Ian Taylor of NBU were elected to their first term. The by-laws call for six members to be elected each year for three year terms.
At a November 14 special called meeting of the 2018 Board required by the by-laws, officers were elected, one year board appointments by incoming Chair Robin Jeffers were confirmed, and a preliminary budget was adopted. Officers consist of Chair of the Board Robin Jeffers of J & R Gymnastics, Chair-Elect Shane Wolf of Rockin 'R' River Rides, Vice Chair Nathan Manlove of The AMMO Group, Vice Chair Wes Studdard of Bluebonnet Motors, Inc., and Immediate Past Chair Brandon Dietert of New Braunfels Smokehouse, Inc.
One year appointees are Kristen Hoyt of the New Braunfels Jaycees, Dani Fuselier of Broadway National Bank, and J.P. Kesselring of Farmers Insurance Office of J.P. Kesselring. In January the Board of Directors will vote to confirm Tiffany Soechting of Natural Bridge Wildlife Ranch to fill a position on the Board made vacant by Shane Wolf moving to an Officer position. Soechting, who is recommended for the position by Jeffers, term will end December 31 of 2018.