Nelda Juarez is the South Texas, District Director for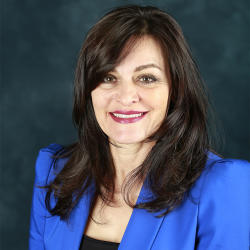 CenterPoint Energy. Juarez started her career with Entex (predecessor company of CenterPoint Energy) in Laredo two weeks after graduating from Texas A & I University in Marketing. She took a lateral transfer to New Braunfels in 1983.  Shortly thereafter, she was promoted to Area Manager in Universal City in 1985.
In 1991, Juarez was promoted to Laredo District Manager. She spent fifteen years there before relocating back to New Braunfels in 2006 as the South Texas District Director. Juarez oversees the natural gas distribution system operations of eighty-five communities south of Austin to Laredo, Victoria and along the Coastal Bend area.
She has a passion for community work and was a past member of the Laredo Chamber of Commerce, Laredo Builder's Association, Women's City Club and United Way of Laredo. In addition, she was a charter member of the Laredo Clean City's Coalition and class member of Leadership Laredo. In 2003, she was appointed to the Laredo Commission of Women by Councilman Gene Belmares. She is past board member of the United Way of Comal County and is currently a board member of the New Braunfels Chamber of Commerce. Juarez volunteers in the annual CenterPoint Energy Barbecue Cookoff that raises money for scholarships for CNP family members.   
Juarez has one daughter, Ali, a 2009 graduate of Canyon High School. Ali graduated from the University of Texas in San Antonio with a Bachelor of Science degree in Architecture and a Master's degree in Architecture from the University of Texas at Austin. Ali resides in Dallas. 
Fun Facts:
What was your favorite toy growing up? I don't think I had a favorite toy. I spent a lot of time doodling growing up. My parents just handed me a piece of paper and pencil and I could entertain myself for hours. I took piano lessons for six years and I hated it. To this day, I still can't play the piano, although I own one. Eventually, my parents allowed me to take art lessons. My love for drawing evolved into sketching in charcoal, then pastels and eventually I began painting in oils. I still can't resist doodling. I'm definitely right brain dominant.
If you could have dinner with anyone, past or present, who would it be? My choice would be Queen Elizabeth. At an early age, she was forced into the limelight. She was a world leader at a very early age and in a predominantly male stage. She is  the longest reigning monarch celebrating sixty six years on the throne. Over the years she has evolved. She has tried to make her reign more modern and sensitive to the changing public while still maintaining traditions associated with the crown.  
If you could have one super power, what would it be? I would love to read people's minds.  With that power, you would know a person's true colors.