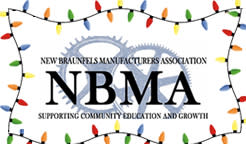 The New Braunfels Manufacturer's Association will meet for their final lunch meeting of 2017 on Tuesday, December 19, at 11:45 a.m. in Honors Hall. Chris Snider, of Texas Tito's, will preside. There will be brief remarks on scholarships, financials, and dues renewals.
The program is the annual Christmas presentation by Cemex and the New Braunfels Herald-Zeitung. Both of these businesses have been teaming up with a year-end company report and outlook into the new year. Antonio DeLuca from Cemex and David Compton from the Herald-Zeitung will be Santas for this year's meeting. Both will speak about their 2017 successes and what the crystal ball says about their 2018. Both will continue a long tradition, and present all members with a Christmas gift.
The NBMA meets on the third Tuesday of each month to share best practices, support the private and free enterprise system, and present a strong voice in regards to economic development and political issues. Contact Rusty Brockman at (830) 608-2811 at the Chamber for more information.