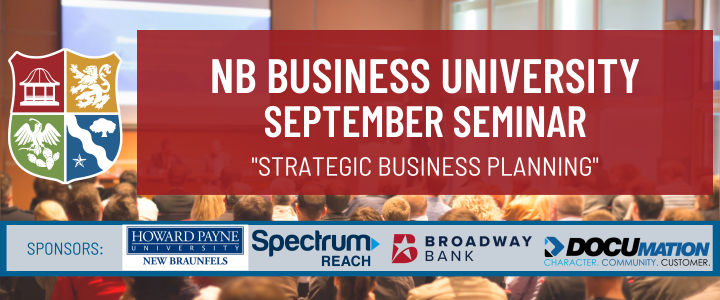 The New Braunfels Chamber of Commerce's NB Business University Program will host a Seminar Luncheon Thursday, September 22nd, on Strategic Business Planning.
In this insightful conversation with G7 Tech Services CEO Odeta Pine, she will break down exactly what it is in easy-to-understand terminology as well as empower you to gather the information you need to lay out data-driven growth plans that will carry you for the next month, six months, 24 months and beyond. No matter the size of your organization or departments, being able to collect accurate information to guide planning sessions and decision making is critical. As an expert in data mapping and automations, Odeta is uniquely positioned to share how to ensure you're collecting the right data, in the best way possible to drive growth!
The luncheon will be held from 11:30a.m. to 1:00 p.m. at Howard Payne University New Braunfels Center, located at 4102 TX-337 Loop Ste. 100. Seating is limited.

$50 Chamber Member/ $80 General Public. View Pricing Packages HERE.
THANK YOU TO OUR SPONSORS