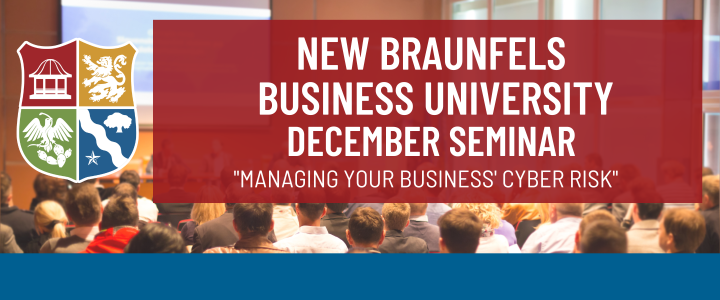 The New Braunfels Chamber of Commerce's NB Business University Program will host a Seminar Luncheon Thursday, December 1st, on Managing Your Business' Cyber Risk.
Expert Scott Willeford, VP of Technology and Operations for DOCUmation, will take the audience on a unique cyber security knowledge journey as he explains Cyber Security MUST-KNOWS for businesses - small and large, IT infrastructure as it is related to cyber-attacks, and best ways businesses can stay connected and remain in-the-loop on the most up to date and most effective strategies for keeping their business cyber-safe.
The luncheon will be held from 11:30a.m. to 1:00 p.m. at Howard Payne University New Braunfels Center, located at 4102 TX-337 Loop Ste. 100. Seating is limited.

$50 Chamber Member/ $80 General Public. View Pricing Packages HERE.
THANK YOU TO OUR SPONSORS