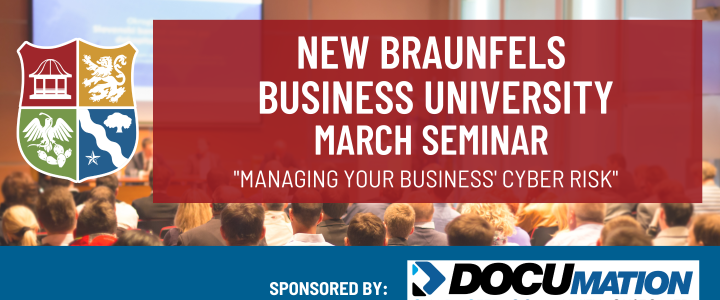 Join the New Braunfels Chamber of Commerce and DOCUmation for an NB Business University Luncheon Seminar on Managing Your Business' Cyber Risk.
Network before & after the event and enjoy lunch during the seminar!
Expert Scott Willeford, VP of Technology and Operations for DOCUmation, will take the audience on a unique cyber security knowledge journey as he explains Cyber Security MUST-KNOWS for businesses - small and large, IT infrastructure as it is related to cyber-attacks, and the best ways businesses can stay connected and remain in-the-loop on the most up to date and most effective strategies for keeping their business cyber-safe.
The luncheon will be held Thursday, March 23, 2023, from 11:30 a.m. to 1:00 p.m. in Honors Hall at The New Braunfels Chamber of Commerce.
Tickets to the Strategic Business Planning Seminar are discounted for Chamber Members at $30 and available to the General Public at $35.

This NBBU Luncheon Seminar is presented by the Business Advisory Committee for the New Braunfels Chamber.
THANK YOU TO OUR SPONSORS
Title Sponsor​

Co-Sponsors
Interested in sponsoring, presenting, or being a part of our Business Seminars?
Contact Jennifer Watson Russell (Jennifer@InNewBraunfels.com) for assistance.