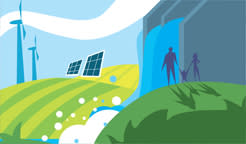 The Chamber's Natural Resources Committee will meet on December 7, at 11:45 a.m. in Honors Hall for their quarterly lunch meeting. Barbara Lackey, Committee Chair, will preside at her last meeting. Barbara is completing her second year as chairperson. There will be a brief discussion on program ideas for 2018, so be prepared to give input so the leadership can prepare interesting activities for committee members.
The program will be presented by Dr. Robert Mace, Chief Water Policy Officer at the Meadows Center for Water & the Environment at Texas State University. Mace was most recently the Executive Director of the Texas Water Development Board in Austin. Boxed lunch from New Braunfels Smokehouse will be available, so please RSVP to Shana@InNewBraunfels.com with your choice of brisket or turkey sandwich for $6.
The Natural Resources Committee provides information and resources to Chamber members in the areas of water, air, land conservation, environmental topics and how to protect the natural resources in New Braunfels and Comal County. This committee meets quarterly for lunch and a program. For more information on this committee, or any of the Chamber's committees, visit www.CommitteesInNewBraunfels.com.