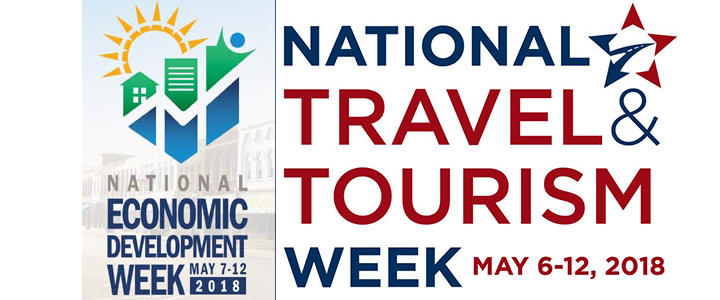 National Travel and Tourism Week and National Economic Development Week will both be celebrated across the country May 6-12.  Travel and tourism has become one of the state's largest and most important industries and directly affects our community's economy.
National Travel and Tourism Week celebrates the contributions and accomplishments of the U.S. travel community. In 2018, 35 years after National Travel and Tourism Week was established by a congressional resolution, the industry will celebrate with a new theme: "Travel Then and Now." Watch our social media throughout the week for "then and now" photos of popular New Braunfels sites.
New Braunfels' most recent hospitality economic impact study shows a 32.9% improvement from 2013 to 2017. This brings the total economic output of New Braunfels' hospitality industry to $706.5 million. The local hospitality industry paid $134.2 million in direct wages and supported another $92.8 million in wages to indirect workers. For New Braunfels, this means that tourism supports 1 out of every 4 jobs in our community.
National Economic Development Week, #EconDevWeek, was created by the International Economic Development Council in 2016 in order to increase awareness of local programs that create jobs, advance career development opportunities and increase the quality of life. Economic Development programs and policies aid in the creation, retention and expansion of jobs; the development of a stable tax base; and the enhancement of wealth. New Braunfels' economic development activities, led by the New Braunfels Economic Development Corporation, are incredibly important to maintaining the low unemployment rate, recruiting and retaining strong employers, creating a diverse economic base, and supporting high quality of life we enjoy here.