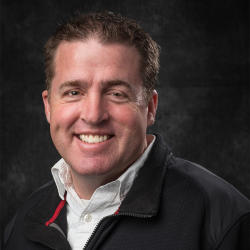 Nathan Manlove is President of AMMO, a full-service marketing agency.
Most of his younger life was spent out in the country near Vernon, Texas. In 1990, he escaped to Oklahoma City to attend Oklahoma Christian University, where he earned a degree in Advertising Design. While there, he performed an internship at an advertising agency. That agency hired him and Nathan did creative work for them until 1999, when he was invited to move to Austin by, and work in the same agency as, his then friend Tammy. Manlove worked in Austin for a year, and then moved to San Antonio to work manage Sprint's marketing in the city. That was 2001, and Nathan was laid off soon
thereafter due to the tech collapse.
As luck would have it, the day Nathan was laid off by Sprint was the day before his wedding to his then fiancé Tammy. The pair was married anyway and enjoyed a long, long honeymoon thanks to a poor economy. Out of desperation, Tammy went back to work in Austin and Nathan began doing freelance work in order to pay rent. He called his company AMMOadvertising.
At some point, the company changed its name to The AMMO Group, and now goes by AMMO. It grew from just Nathan to 9 employees. It moved offices from Nathan's 2nd bedroom, to a room above the Phoenix Saloon, to a warehouse on Hill Street, to a former doctor's office above Dancing Pony, and finally to its own office on Comal Avenue. Currently, AMMO is blessed with amazing employees, generous clients, and a really large cat.
Nathan credits any success in his life to God's grace and the love, support, and patience of his wife, Tammy, and son, Hudson.
Manlove is Chair of the Board at the Chamber of Commerce, Past-president of the New Braunfels Downtown Association, a member of the CVB Strategy & Steering Committee, a Leadership New Braunfels Graduate (2013), an Opa, and a member of the Rotary Club of New Braunfels. He and his family attend the New Braunfels Church of Christ.
When not at AMMO, Nathan spends his time with his family, doing things like having dinner, going on adventures, playing tennis, reading, wondering why his 1958 Chevy Apache won't start, watching all "The Rifleman" episodes again, and just driving around.
Fun Facts:
Favorite activity in New Braunfels? Driving around. This area is so beautiful. When we just drive, we find places we've never seen. A bonus favorite activity is a date night in downtown where we just park the car and hop around to as many fun places as we can.
If you could travel time, what time period would you visit? I'm pretty good with right now. I'm blessed with a great family, great friends, and to live in a great town.
Favorite all time musician or band? My son, Hudson. He's awesome on his classical guitar.