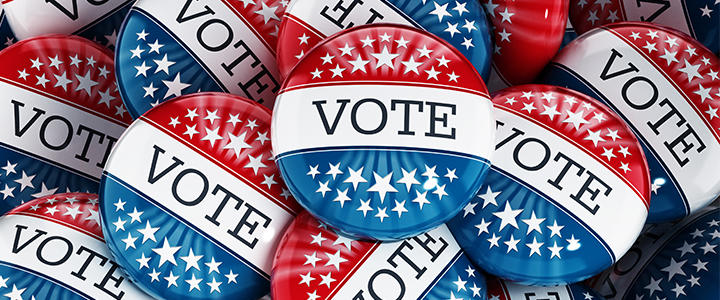 After two weeks of much higher-than-normal turnout for early voting in Comal County, Election Day for the 2018 midterms is Tuesday, November 6. For more information, visit www.VoteInNewBraunfels.com.
Polls will be open throughout the county from 7:00 a.m. to 7:00 p.m. Unlike during early voting, voters can only cast a ballot at the polling place in their voting precinct. A list of precincts and polling places is below.
"We've had turnout in early voting more on pace with a presidential election than a midterm," said Comal County Elections Coordinator Cynthia Jaqua. "We expect Election Day to be busy, too, so residents may want to give themselves extra time to vote. We're committed to making sure every registered voter who wants to cast a ballot can do so before the polls close."
Jaqua encouraged voters to take their time while voting and to double-check their selections before casting their ballots.
By the end of the day on Wednesday, October 31, more than 41,000 Comal County residents had cast ballots in the election, already exceeding the total number of voters in 2014 and slightly below the numbers who voted in the 2016 presidential election. Overall turnout was at roughly 41 percent, nearly matching the total turnout for all of the 2014 election.
The ballots feature contested local races for county clerk and Precinct 2 and Precinct 4 commissioners; state races including governor, lieutenant governor, attorney general, and seats on Texas appellate courts and in the Legislature; and federal races for seats in the U.S. House and Senate.
State law requires that voters provide an approved photo ID before casting a ballot. Those who do not have one of the approved forms of ID can sign an affidavit certifying they do not have and cannot reasonably obtain one, and provide an alternate form of identification. A list of the approved photo IDs and alternates can be found at www.votetexas.gov.
For a list of polling places, precinct maps, sample ballots and more Election Day information, visit www.votecomal.com.  
Precincts and voting locations for Election Day are as follows:
Pct. 101: Comal County Senior Citizens Center, 665 Landa St., New Braunfels
Pct. 102: Bill Brown Elementary School, 20410 Hwy. 46 West, Bulverde
Pct. 103: Freedom Fellowship Church, 410 Oak Run Point, New Braunfels
Pct. 104: Tye Preston Memorial Library, 16311 S. Access Road, Sattler
Pct. 105: Lakeside Golf Club, 405 Watts Lane, Startzville
Pct. 106: GVTC building, 36101 FM 3159, Bulverde
Pct. 107: Vintage Oaks Clubhouse, 1250 Via Principale, between New Braunfels and Bulverde
Pct. 201: Peace Lutheran Church, 1147 S. Walnut Ave., New Braunfels
Pct. 202: John Paul II Catholic High School, 6720 FM 482, Schertz
Pcts. 203, 207: Christ Our King Anglican Church, 115 Kings Way, New Braunfels
Pct. 204: Comal County Bulverde Annex, 30470 Cougar Bend, Bulverde
Pct. 205: Garden Ridge Community Center, 9500 Municipal Parkway, Garden Ridge
Pct. 206: Bulverde Spring Branch Fire & EMS Station, 30475 Johnson Way, Bulverde
Pct. 208: Cibolo Creek Community Church, 30395 Ralph Fair Road, Fair Oaks Ranch
Pct. 301: Westside Community Center, 2932 S. Interstate 35, New Braunfels
Pct. 302: Comal County Courthouse, 100 Main Plaza, New Braunfels
Pct. 303: New Braunfels Public Library, 700 E. Common St., New Braunfels
Pcts. 304, 306: Comal County Goodwin Annex, 1297 Church Hill Drive, New Braunfels
Pct. 305: New Braunfels Christian Church, 734 Loop 337, New Braunfels
Pct. 401: Eden Hill Communities, 631 Lakeview Blvd., New Braunfels
Pct. 402: Church in the Valley, 14181 FM 306, Canyon City
Pct. 403: North Shore United Methodist Church, 23880 N. Cranes Mill Road, Canyon Lake
Pcts. 404, 406: Christ Presbyterian Church, 1620 Common St., New Braunfels
Pct. 405: Rebecca Creek Baptist Church, 11755 U.S. Hwy. 281 N., Spring Branch
Pct. 407: River Chase Clubhouse, 436 River Chase Way, New Braunfels