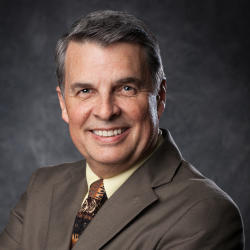 Michael Meek is the President and CEO of the Greater New Braunfels Chamber of Commerce, Inc. He also serves as the Executive Director of the Greater New Braunfels Economic Development Foundation.
He has been with the Chamber since 1988 in various capacities, assuming the CEO position in 1995. He received his BBA in 1975 from Texas A&I University and is a Certified Economic Developer.
The Greater New Braunfels Chamber of Commerce has the responsibility for recruitment via professional services agreements with the City of New Braunfels, Comal County and New Braunfels Economic Development Foundation. The Chamber also manages the affairs of the local Economic Development Corporation. He is a graduate of the Institute of Organizational Management and the Economic Development Institute. The Texas Department of Transportation has named him a "Roadhand", their most prestigious award.
During Meek's time in New Braunfels the last 29 years he has been a catalyst for bringing post-secondary education to the community, a major expansion and remodeling of the Civic Center, the founding of the Communities in Schools Organization, bringing 10,000+ new jobs to the community with dozens of primary employers, the Leadership New Braunfels program and a major remodeling of the Chamber offices. The local newspaper named Meek their Citizen of the Year in 2002 for his efforts in creating the Central Texas Technology Center. The Chamber membership has more than doubled in size in his tenure and receives many honors statewide and nationally for its programs.
Meek is a Past State Chairman of the Texas Economic Development Council (2006) and served as State Chairman of the Texas Chamber of Commerce Executives (2003). He serves as the Secretary-Treasurer of the Comal County Industrial Development Authority, Braunfels Foundation Trust, and staffs the New Braunfels Industrial Development Corporation.
Meek has been married for 42 years and has two grown children and four grandchildren.
Fun Facts:
What is one thing on your bucket list? Travel the Northwest U.S. states like Montana, North Dakota, South Dakota, Idaho and Oregon.
Who is your favorite super hero? Underdog
If you could go on a free vacation anywhere in the world, where would you go? Australia