It is an honor for me to have been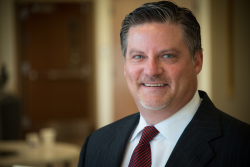 elected to serve as the chairman of the Greater New Braunfels Economic Development Foundation this year. The annual meeting of the foundation was held February 12 at the McKenna Events Center with more than 200 members and guests in attendance. I was also honored to present outgoing Foundation Chair Mary Jane Nalley with a plaque for her 14 years of service on the board, including the last two as Chairman.
At each of these quarterly board and all-member luncheons we had a keynote presentation on a timely topic. On February 12, New Braunfels Utilities CEO Ian Taylor provided a presentation on the State of NBU.  Taylor gave a fact-filled presentation on all the silos of business for our municipally-owned utility and how they are dealing with the challenges of growth.
NBU is following their strategic plan established in 2017 which speaks to the impact of growth on their system in the areas of infrastructure, facilities, their employees, and future customer expectations. Taylor noted that growth has created challenges with capacity in their water, sewer and electric systems at twice the normal rate, their office facilities are filled to the brim, and all this while the utility operates with half the employees of other similar organizations.
It is important to note that the $500 million capital infrastructure plan that NBU is undergoing is likely the largest capital investment by any business or governmental organization in our city's history. Taylor explained that not long ago, NBU would typically invest $75 million over five years to stay up with growth. Taylor told attendees that issues have been identified and they are executing aggressive plans to address them, as well as parallel temporary solutions until the permanent ones are in place.
We are fortunate to have a dynamic and visionary New Braunfels Utilities.  Our rates are much lower across the board than what citizens in most other cities pay for water, wastewater and electric. The reliability is also higher. NBU is very environmentally sensitive, having invested in the Headwaters at the Comal project, utilizing technology to detect water leaks, using smart thermostats, and exploring rooftop solar rebates and more.
Why is an economic development organization like the Foundation interested in such matters?  It's simple. As a community, we will be hard-pressed to entice high quality employers to employ our citizens without reliable water, wastewater and electric service. When such infrastructure is available, commerce occurs and quality-of-life increases. Population growth will continue whether we are prepared or not. The smart play is preparing for it, staying in front of it, and molding it to our advantage as a community.
Our Foundation is proud to play a role in providing economic development opportunity locally. Taylor mentioned the importance of partnerships in what NBU has been able to accomplish in saving customers on water supply. We value our partnership with NBU as well.
Tim Zipp
Chairman of the Board
Greater New Braunfels Economic Development Foundation