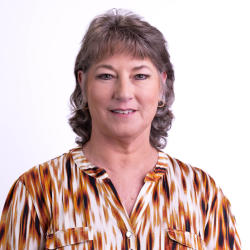 Merry Brinkkoeter is the Assistant to the VP of Finance. She joined the Chamber in 1999 as one of three receptionists. Later she moved to the Accounting Department and is now responsible for accounts receivable, billing and various other duties. She worked for National Oilwell which eventually became Trico Industries in San Marcos before joining the Chamber staff.
Merry is a fourth generation New Braunfelser. She graduated from Canyon High School in 1978. She has been married to her husband, Art Brinkkoeter, for over 40 years. They have two daughters Sabrina Brinkkoeter and Kelly Kallies. She is "Granny" to granddaughter Madison Brinkkoeter and grandsons Treyton and Kason Kallies.
She has done many things from rodeos to kart racing. She participated in the Comal County Sheriff's Posse drill team and local rodeos at Comal County Fairgrounds as a teenager. Later in life she found the love of another type of horsepower, she raced go-karts at the local track on Loop 337 from 1990 to 1997. Her biggest thrill was racing at speeds over 100 mph at Texas Motor Speedway in College Station.
In 2012 she graduated from the New Braunfels Citizens Police Academy Association and is a past Board Member of the NBCPAA Alumni. She is an Auxiliary member of the Germania Farmers Verein where she and Art volunteer at Anhalt Dance Hall in Spring Branch working the ticket booth for the monthly dances.
Fun Facts:
What is one thing on your bucket list? I would love to go to the NFR Rodeo Finals in Las Vegas.
Who is your favorite super hero? Wonder Women, I loved her "Truth" lasso.
If you could go on a free vacation anywhere in the world, where would you go? Australia, but I would have to find a way to smuggle a Koala home with me.