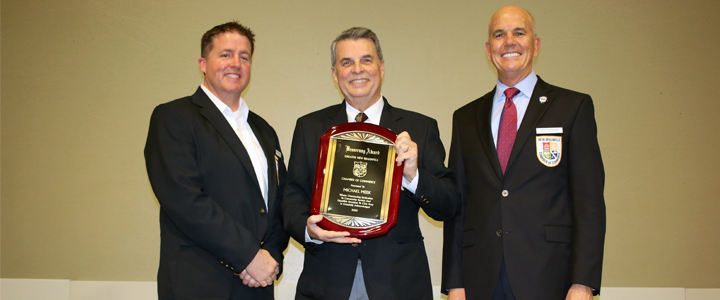 Chamber President & CEO Michael Meek was announced as the winner of the annual Besserung Award Friday evening at the Greater New Braunfels Chamber of Commerce's 102nd Annual Banquet. The award is often referred to as the New Braunfels outstanding citizen's award and is designed to honor an individual who is currently providing a significant contribution to the community through their civic activities.
The name of the winner was kept as a secret until the moment of the presentation, and for the first time in Meek's tenure as Chamber President & CEO he did not know the real recipient. With the help of a few clued-in staff and executive board members, the honor came as a complete surprise to Meek.
"Michael is such a humble man and faithful servant, he never wants the recognition," said Wes Studdard, New Braunfels Chamber Outgoing Chair of the Board, who announced the award. "He has had an enormous impact on our Chamber, City, County and Region, and it's only fitting to recognize his contributions to our community and his 32 years at the New Braunfels Chamber."
Meek has been a catalyst for bringing thousands of new jobs to the area while CEO of the New Braunfels Chamber. He created the Leadership New Braunfels programs and founded Communities in Schools of South-Central Texas. The Herald named him Citizen of the Year for creating the Central Texas Technology Center, and he has been the State Chairman of both the Texas Chamber of Commerce Executives and Development Council. He has received the Marvin Hurley Award, the highest honor awarded to a Texas Chamber professional and even the Texas Department of Transportation has awarded Meek with their most prestigious award, the "Roadhand".
Meek has led the Greater New Braunfels Chamber of Commerce for more than 26 years and has served more than 32 years of his career there. Friday's banquet concluded Meek's last banquet as president and his last day as a full-time employee of the chamber.
The announcement of the Besserung Award winner capped off the evening, but prior to that the banquet program included a special film recapping Meek's 32 years at the New Braunfels Chamber, a surprise unveiling of a watercolor portrait of Meek and his wife Debbie's life, several award recognitions, and the ceremonial passing of the gavel from Outgoing Chair Wes Studdard of Bluebonnet Motors, Inc. to the 2021 Chair of the Board Nathan Manlove of AMMO.