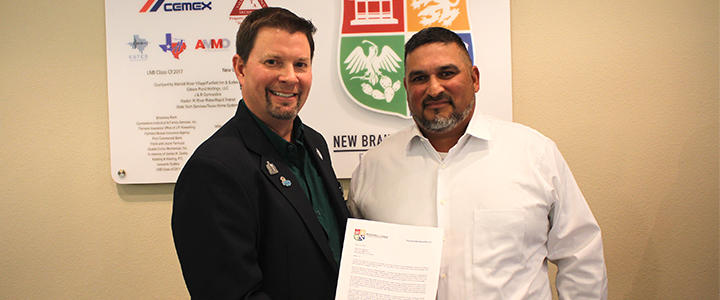 At today's Chamber Board of Directors meeting, John Paul (J.P.) Medina received the Chair of the Board Award in the field of youth development for his efforts with the New Braunfels Youth Soccer Association. This award is designed to honor individuals who have made a significant contribution to the community in a specific field of endeavor, and no more than six recipients may be named in a calendar year.
A lifelong resident of New Braunfels, Medina has held the positions of Director of Operations, Director of Referees, Vice President of Recreation, and President of the New Braunfels Youth Soccer Association. He has been a pivotal piece in growing the sport of soccer in the community, and few, if any, have done more for the thousands of youth involved in soccer locally.
Medina has stepped in to help coach teams that didn't have a coach, mentor new coaches in the organization, maintain field operations, and communicate with parents, being a critical component to the children he has coached, which is more than 1,200 each season. He is always ready to volunteer, lend a hand wherever need be, whether that is to register players, line fields, shovel dirt, set up goals and more. On most Saturdays he can be found at the HEB Fields by 6:00 a.m. setting up for the kids to arrive by 7:15 a.m.
Not only does Medina coach family members, he is also known for taking on other teams in addition with no family connection in order to ensure children could play soccer. The New Braunfels Youth Soccer Association is 100% parent coached, and coaching commitment means several nights a week for practice and most of the time on weekends. He has selflessly done this for many years and with multiple teams at a time. Many associated with the sport locally know Medina to be trustworthy, fair, honest, fun, hard-working, giving, understanding, and humble. His influence on generations of youth in New Braunfels will be felt for years to come.
For these reasons and many more, Medina is the first recipient of the Chair of the Board Award of 2019. Medina and his wife Yvette will be invited as special guests to the Chamber of Commerce Annual Banquet on January 31, 2020 where he will be further honored.