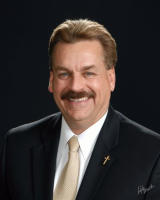 By Mark Hampton, 2014 Chair of the Board
Can you believe it is already May? Where does the time go? Everyone I talk to is busy. And busy is good. Well in addition to all of the business activity that is going on around us, it is the time of year where graduations are taking place. Our Greater New Braunfels of Chamber of Commerce (GNBCC) recently graduated the 2013-14 Youth Leadership New Braunfels class. This graduating class consisted of 32 local 10th and 11th grade students. These students attended various classes, participated in team building activities and toured area business locations over the course of 8 months. They were led by Rita Kaufmann Powell (GNBCC) and local REALTOR® Clint Rutledge. These two are to be commended for their leadership and involvement in this program.
I was fortunate enough to attend the YLNB graduation and listen to keynote speaker, Lynn Hickey, Assoc. VP/Director of Athletics at UTSA. Mrs. Hickey's speech was just what the doctor ordered. Her words regarding responsibility, ownership of your actions and leadership were inspiring.
Just this past week, we had another leadership class graduate. The Leadership New Braunfels class of 2013-14 wrapped their class on May 6th. This class was made up of local Chamber of Commerce members. Again, this class was led by Rita Kaufmann Powell and the activities and classes have some similarity to the YLNB classes.
These two programs were established many years ago as part of the GNBCC ongoing strategic plan. We are fortunate to have the past leadership recognize the need to groom leaders for the future. And because of their foresight, our community has been the benefactor.
The GNBCC has many programs that benefit our members and our community. But is also important to recognize individuals who have given of their time, talent and treasures, so that others may benefit. So far this year, the Chamber has recognized three individuals for their involvement and activities in our community. These recognitions are given at the monthly Chamber of Commerce Board of Directors meetings. The recognition is called the Chair of the Board Award.
In February, John Seidel was recognized for his affordable housing efforts and his many charitable activities. He received the Habitat for Humanity Outstanding Volunteer Service Award and was named their Outstanding Board Member.
In March, we recognized Jerry Major in the field of philanthropy. Since taking over as President of the McKenna Foundation, over $13 million has been invested into area needs such as the Children's Advocacy Center, Habitat for Humanity, a new mobile clinic for the county and Family Promise.
Most recently, we recognized Becky Voges in the field of community service. While active at her church, she started multiple programs and initiatives that continue today and most notably was the catalyst behind the American Cancer Society's Relay for Life for Comal County event.
Our community is fortunate to have individuals like these and many others who give of their time, talent and treasure so that others may benefit. Now that is leadership at its best.
One last note, we just wrapped up the city elections. Hopefully, you participated in these elections. But don't put those voter registration cards and ID's away yet. We have another election upon us. We have the Primary Runoff elections on May 27th with early voting taking place May 19-23. That's right, we have TWO elections this month.
It is your right and opportunity to Get Out and VOTE. I encourage you to participate and get involved with those who will lead our community and state. Here is your chance to lead – GO VOTE!
Mark Hampton
2014 Chair of the Board
Greater New Braunfels Chamber of Commerce, Inc.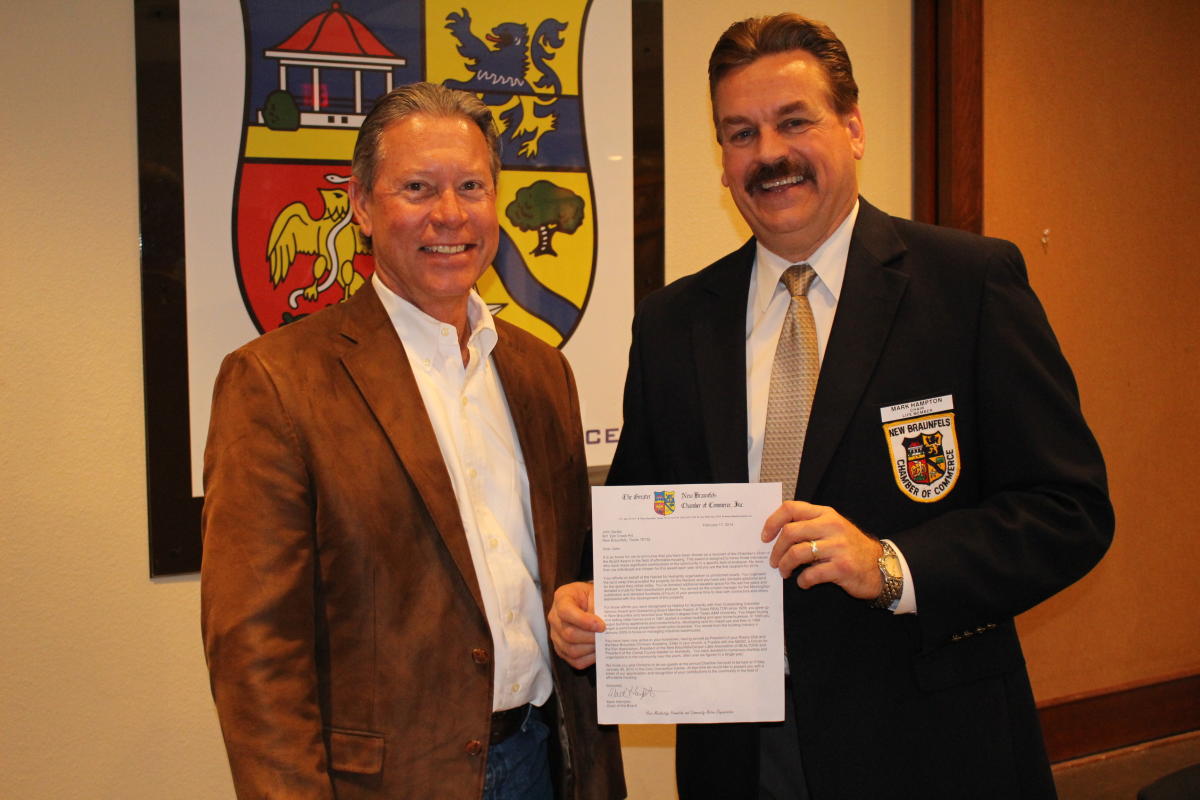 John Seidel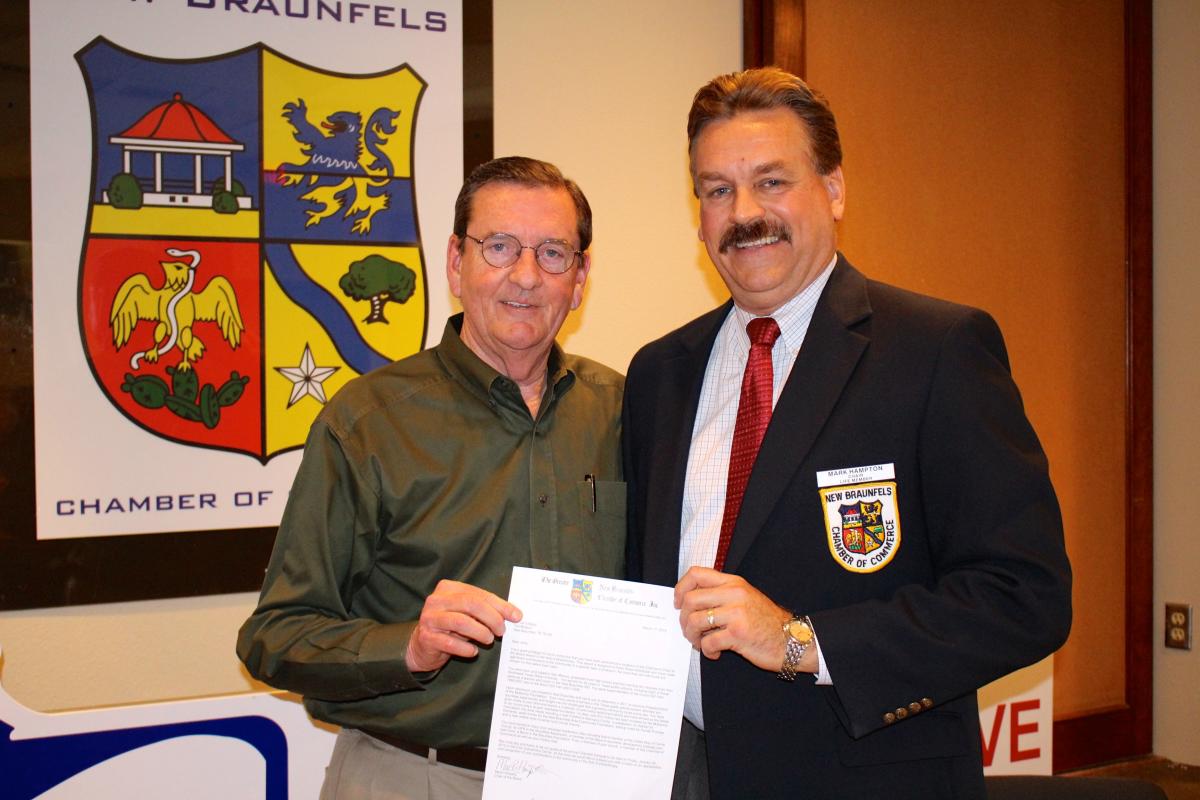 Jerry Major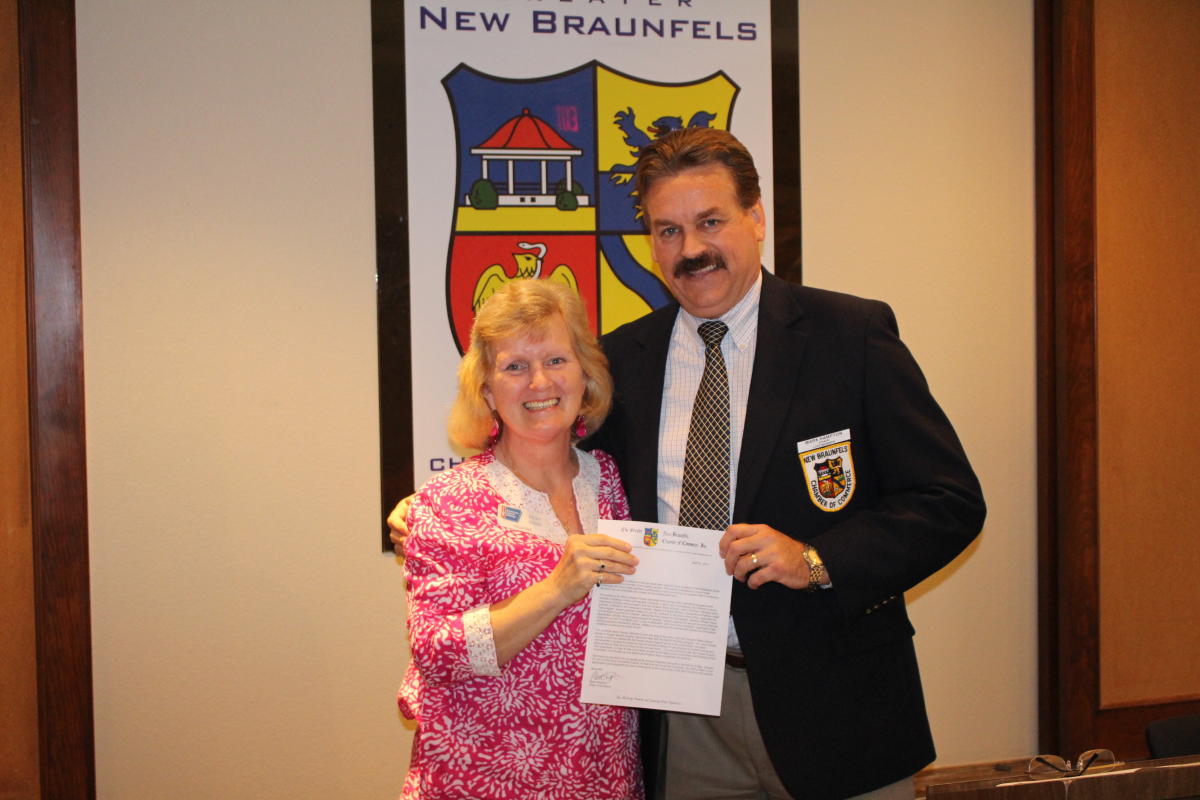 Becky Voges