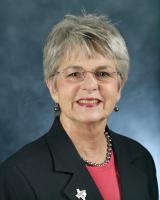 By Sandy Kibby, 2013 Chair of the Greater New Braunfels Chamber of Commerce Board
Shop, Hire and Invest Local – It Just Makes Good Cents! 
When Corey Hall was Chairman of the Greater New Braunfels Chamber of Commerce Board, he initiated the phrase, "Shop New Braunfels First", which became our mantra as a new business cut its ribbon, celebrating the opening of its doors and membership in the Chamber. Corey's family business, Heart of Texas Promotional Products, sells all sorts of business promo items from T-shirts to Fiesta-type medals; so, he knows a thing or two about promoting businesses, and this was a great idea and well-received by all.
When formulating our 2013 Plan of Action, the Chamber's 24-member Board, representing a wide array of business interests, not only agreed that we should continue with this phrase, but we also agreed that we should use it as a base on which to broaden our horizons. We decided to go forward with "Shop, Hire and Invest Locally". And this all begins when a business joins the Chamber. For a base membership fee of $285 per year, a business can hardly afford not to become a member of the Chamber. Just think: for less than a dollar a day, $5.50 a week, or $23.75 per month your business can have access to many Chamber services.
Once your business joins and coordinates a ribbon-cutting event date with Chamber staff, your business's ribbon-cutting picture will be posted in the Business section of New Braunfels Herald-Zeitung Newspaper and on the Chamber website. Your business's name will be listed under the appropriate category on the website and will be listed in the award-winning annual Chamber Business Directory.
Your business representatives have the opportunity to network every month at a social "mixer" where door prizes are offered by the sponsors. You, as a member, can join any number of Chamber Committees under the categories of Member Services and Outreach, Community Betterment, Public Policy, and Economic Development. Committee participation provides a great opportunity to network and offer ideas that could help promote yours and similar businesses in the community.
A recent national survey revealed that being active in a local Chamber of Commerce does pay off. When consumers know that a local small business is a member of the Chamber, they are 80 percent more likely to purchase goods and services from that business in the future. So, Chamber membership has consistent and powerful benefits for small businesses. Your Chamber offers a multitude of opportunities to advertise your business at Chamber events, in Chamber publications, and through social media. If you are a member of the Chamber, you can participate in the member-to-member discount program, offering other Chamber members a percentage discount for patronizing your business. You can also participate in the annual trade show in September and can take advantage of the various Business University seminars throughout the year that focus on current subjects of interest to all business leaders. And if you don't take advantage of at least some of these many opportunities that the Chamber offers, then you are not getting your money's worth!
Now, another job for the Chamber, as the holder of the Convention and Visitors Bureau (CVB) contract with the City, is to coordinate the public education messaging to market the city and encourage families to make New Braunfels a summer destination place, "Home of Summer". We would like to see more families come here to stay, play, eat, drink, and sleep for their summer vacations. New Braunfels could be the summer getaway "hub" for a great package of fun for all ages and interests. Here is the place for water recreation (tubing or sliding or skiing), arts and cultural heritage, dance halls, underground caverns, wildlife tours, auto races, and the list goes on and on. Our city is adding hotel beds as we speak, and restaurants of all cultures and cuisines are enticing more and more visitors every day.
Our marketing team, headed by the very talented Judy Young, is travelling all over the state and country promoting New Braunfels. A recent interview with a Houston television station exemplifies her daily activities as she chats with the host (both sitting in inner tubes) about the many offerings of our community. Also, our all-member polling last summer and fall indicated that our members want us to improve our website and to use more website promotions to overnighters and to the drive-in/drive-out visitors. We want all of these potential visitors to be able to access, with the click of a button, all of the information that they need to make the decision to come visit our local merchants to "Shop, Hire, and Invest Local," and to our out-of-town guests: make New Braunfels your summer vacation "hub" city. This just makes good cents for all of us!