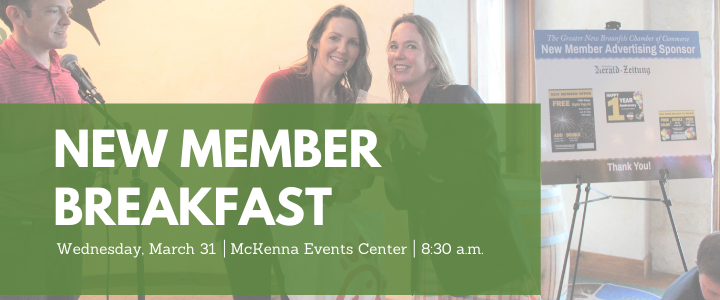 New members who have joined the Chamber are invited to a New Member Breakfast in their honor on Wednesday, March 31 at the McKenna Events Center from 8:30 a.m. to 9:30 a.m. Attendees will get the chance to meet other new members with a brief presentation from Chamber Chair of the Board Nathan Manlove.

Participants will be able to introduce themselves by name, business, location, and give a brief description about their business to the crowd, which includes our Blue Coat Ambassadors, Committee Chairs & Vice-Chairs, and staff. Food will be provided by Chick-fil-A Westpointe Village.
Feel free to bring your brochures and business cards for display.
Registration is required. Click the button below to register and please limit two people per business.
If you are a new member to the Chamber and did not receive an invitation, please contact Phyllis Foerster at Phyllis@InNewBraunfels.com.