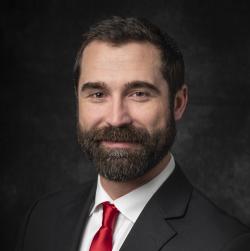 Matt Smith is the VP of Lending for First Commercial Bank which is the position he has held since moving to New Braunfels in October of 2016.  His primary responsibilities include building and managing a portfolio of banking clients and providing them with superior service and financial guidance.  As one of the direct decision makers in the bank, Matt can offer his clients most types of commercial, residential, and consumer loan products.  First Commercial Bank is one of the smallest banks in town and is community owned and community focused.  This allows Matt the flexibility to provide his customers with expeditious loan decisions and advantageous options when compared to some larger banks in town. 
Matt and his family previously lived in Kerrville where he went to school at Schreiner University from 2000-2004 graduating with a degree in management information systems.  He shortly thereafter began his banking career at Wells Fargo as a teller and worked his way up to become a loan officer and investment adviser.  In 2009, he shifted his focus entirely to his lending career and took the job of VP of Lending at Guadalupe National Bank where he worked 7 years before moving to New Braunfels. 
Since moving to New Braunfels, Matt has spent a large part of his time serving on multiple non-profit boards including the New Braunfels Jaycees Board as Treasurer, VP, and President as well as the Hope Hospice Treasurer.  He graduated from Leadership New Braunfels in 2018.  He is currently attending a 3 year Master's program at the Southwestern Graduate School of Banking to which his anticipated graduation date is 2021.  Matt met his wife in Kerrville in 2010 and they were married in 2014.  They have one beautiful daughter and one handsome son.     
Fun Facts:
What is your favorite food? Crawfish Boils!
What is your favorite quote? "Not all who wander are lost." – J.R.R. Tolkien
Favorite book? The Count of Monte Cristo