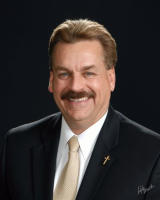 By Mark Hampton, 2014 Chair of the Board
The month of March is always a busy month for New Braunfels and the business community. With March comes spring break, which brings tourists and visitors to our community. Another big event for New Braunfels will be the 48th annual Texas Legislative Conference. This is the premier Legislative Conference in Texas and will be held in the New Braunfels Civic Convention Center on March 27 and 28. This year's event will honor Texan of the Year recipient, Wallace Jefferson. During the conference, our panelists will discuss issues pertaining to 1) Water and Transportation Infrastructure 2) Shale Oil and Gas Production Pros and Cons and 3) a Media Panel which will discuss the results and forecasts of our recent elections. We are fortunate to have many state elected officials attending and participating in our conference.
Another important feature for this year's event will be a live telecast feed that will be provided in high schools throughout Texas. Students will be able to watch the panelists as they discuss their topics. These students will also be provided an opportunity to ask questions via Twitter. Now, how is that for technology? This new feature has been possible due to the work and efforts of NBISD Superintendent Randy Moczygemba. Thank you Randy. For more information regarding the Legislative Conference, you can call our Chamber of Commerce office at 830-625-2385.
Speaking of technology and communication, your Greater New Braunfels of Chamber of Commerce has been actively investing in new technology and communication tools to enhance your businesses and our community. One of these investments has been in a more user friendly website which provides more interaction. The end result with these new tools is increased opportunities for the business community. In order to be more efficient in these opportunities, we need to insure that we are communicating consistently and effectively. Because of our success and growth, your Chamber of Commerce is in the process of adding a Communication Director.  This addition will be a big benefit to our membership and our community.
And one last note….another benefit to our community is something that we can all have a hand in. This benefit is "SHOPPING NEW BRAUNFELS FIRST". By shopping in New Braunfels, you keep sales tax dollars in our community, which in turn helps to keep property taxes at a lower level. This benefit also contributes to increasing jobs within our community. By shopping in New Braunfels, the benefit has a multiplier effect. As an example: The Real Estate Center at Texas A&M has determined that for every dollar spent in the real estate industry, that dollar generates another seven dollars into the economy. So, the next time you decide on where you are going to dine out or where you are going to go shopping, just remember, SHOP NEW BRAUNFELS FIRST, we all benefit.