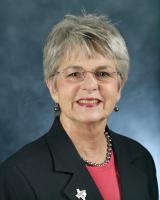 by Sandy Kibby, Chair of the Greater New Braunfels Chamber of Commerce
Two months into my term as Chair I am reminded of the breadth and depth of this Chamber, which started in 1919 and has grown to over two thousand members.
When Larry Hammonds of Frost Bank was Chair in 2010, he came up with the idea of bringing all of the past Chairs of the Board together with the current executive committee a few times a year to discuss what is going on in the Chamber today. We normally spend a little social time together, and then we present a brief program about the activities of the Chamber. It did not take long for us to realize that not only do we enjoy sharing what we are doing with them, but also, we have much to learn from them.
Recently, we asked our former Chairs what memories stuck with them about their terms in office. A couple of people immediately recalled a not-so-pleasant confrontation with some issue, some remembered an awesome encounter with a prominent politician, but most remembered the fun and camaraderie they had with friends and business acquaintances. We can learn much from each other; so, thank you, Larry, for starting this tradition.
Another tradition that has sustained over the years is the Texas Legislative Conference which the Chamber hosts again at the Civic Center on March 21st when we recognize John Sharp as the Texan of the Year. The next day, on Friday, March 22nd a variety of panels entertains us with discussions of current events and updates on legislative activity. Also, in memory and in honor of former Texas House of Representative Edmund Kuempel, two scholarships will be presented to area youth.
New Braunfels is most fortunate to host this event every year. Because this is a legislative year, it is a great opportunity to see some politicians offering their views and to hear what those closely connected to the political scene have to say about current issues. New Braunfelsers should take advantage of this chance to hear the inside scoop about Capitol happenings and purchase a ticket to these events.
Because this is a Chamber-sponsored event, the Blue Coats will be at the conference in force, and it is another great opportunity for all businesses to show support and interest in the legislature's actions on our behalf. If we don't know what is going on at the Capitol, we really can't complain about decisions that are being made without our input. Again this is another wonderful tradition and opportunity for exchange of information.
Let's welcome these Legislative Conference participants and show our visitors that this is an event that we want to sustain over the ages. Let's make John Sharp remember his special day as he is recognized as the Texan of the Year by surrounding him with good old New Braunfels hospitality and a heritage for business. Hope to see you there.