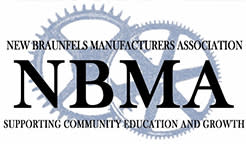 The New Braunfels Manufactures Association will meet for their monthly meeting on Tuesday, July 18, at 11:45 a.m. in Honors Hall. Chris Snider, of Texas Tito's, Inc., is President of the Association and will preside. There will be a short business meeting and discussion and update on the workforce program and NEPRIS.
The Workforce Stakeholders Education Subcommittee developed a detailed plan to work with school teachers, counselors, career counselors, and administrators providing on-site visits and tours to local businesses during summer in service and staff development meetings. The subcommittee also developed the NB STEAM White Label program through NEPRIS. NEPRIS is a virtual program connecting students to business professionals.
The NBMA meets on the third Tuesday of each month to share best practices, support the private and free enterprise system, and present a strong voice in regards to economic development and political issues. Contact Rusty Brockman at (830) 608-2811 at the Chamber for more information.