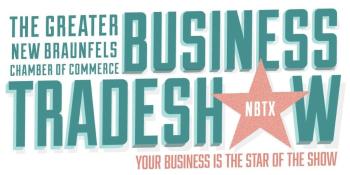 A limited number of vendor booths for the 29th Annual Business Trade Show are still available for reservation but will be snatched up quickly so get yours while you can. The Show will take place on Tuesday and Wednesday, September 12 and 13, with a "Great Films of Hollywood" theme. The whole Civic Center will be costumed and decorated with more than 100 New Braunfels businesses showing off the products and services that make them unique.
This celebration of local businesses kicks off with a Sneak Preview Night on Tuesday from 6:00 to 9:00, which includes a silent auction, complimentary beer, wine, cocktails, and hors d'oeuvres, entertainment, and great door prizes. Exhibitor booths will be judged for best decorated booth in the categories of large and small business and the winners will be announced onsite that evening.
The Trade Show continues on Wednesday with the Day Show from 11:30 a.m. to 6:00 p.m. The Day Show features a complimentary lunch, an exciting scavenger hunt and a Happy Hour beginning at 4:30 with complimentary food and beer, entertainment, and another round of great door prizes.
The New Braunfels Business Trade Show is a great opportunity for large and small businesses to showcase their products and services, develop sales leads, and network with other businesses in the area. Single booths are $525 for Chamber members and $775 for non-members.
For more information or to claim your booth visit www.TradeShowInNewBraunfels.com. Booths are available on a first come, first serve basis.