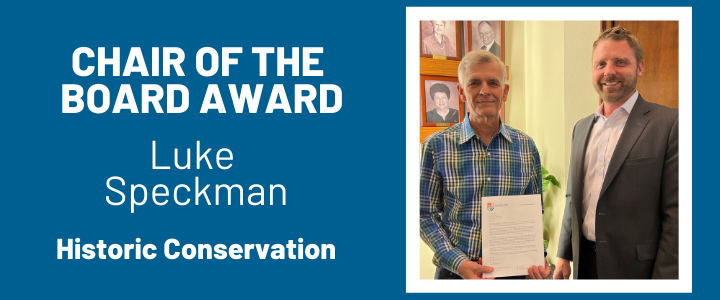 During the monthly Chamber Board of Directors meeting on Monday April 18th, Chair of the Board Ian Taylor awarded Luke Speckman with the Chair of the Board Award in the field of historic conservation. This award is designed to honor individuals who have made a significant contribution to the community in a specific field of civic endeavor.
Luke Speckman has been involved in local organizations for many years, with specific interest in history. Speckman served on the Mainstreet Board for many years as the Promotion Chairman and Chairman of the City of New Braunfels Historic Landmark Commission. Currently, he holds the positions of founding member and treasurer of the New Braunfels Mainstreet Partners, President of the New Braunfels Conservation Society, and the Chairman of Foreign Missions at his Church. In addition to this, Speckman is working on numerous projects at Old Town at Conservation Plaza.
The awardee is presented a letter from the Chair of the Board at a Board of Directors meeting, then presented a plaque at the Annual Chamber Banquet. The selection committee for this award is made up of the Immediate Past Chair, Chair of the Board, and Chair-Elect.