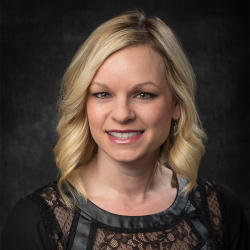 Lori Archer graduated from Canyon High School with honors and earned a marketing degree from Texas State University San Marcos in 2004 with honors as well. She even made the Dean's list a few times. She is the second generation at Alamo Hy-Tech Foundation Repair where she works alongside her brother, Chad Gregson.
She enjoys volunteering her time within the community. In fact, Lori met her husband, John Archer, at the Business Trade Show in 2010 while volunteering. They were married in San Antonio in May 2014. Their first child, Max Otto was born in April 2015 and second child, Finley Kate in June 2016. There is never a dull moment in the Archer household with those two. In her free time, you can find Lori in her craft room or on Pinterest dreaming up projects for John to build. They also enjoy spending time with their children and enjoying everything New Braunfels has to offer.
Fun Facts:
Favorite thing about the Comal County Fair? The fact that I get to take our children and let them experience the same great fair that my husband & I both attended as kids. I love the rides, the games, the concerts and the food that all preserves that small town feel of the county fair.​
Who is your all-time favorite musician or band? It would have to be Counting Crows. I have loved & listened to them since I was in High School, and even more so in College. One of my new favorites is Nathaniel Rateliff and the Night Sweats. I was introduced to them at ACL in Austin a few years ago and they are now definitely my go to band I tell Alexa to play. They have a great sound and put on a fantastic show.​
If you could have one super power what would it be? The ability to stop time would be indispensable. As a full-time working mom who volunteers her time both professionally and personally, with a husband and two children, I am constantly going and feel like there are never enough hours in the day to be able to accomplish everything on my list and give everyone the amount of attention they need. I would love to be able to stop time and snuggle my littles for a little longer and have an uninterrupted conversation with my husband.​