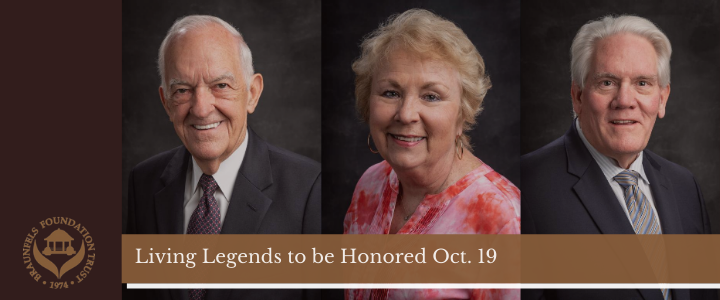 The Braunfels Foundation Trust's Celebration Luncheon event will take place at the New Braunfels Civic Convention Center on Friday, October 19. All seating will be socially distanced of 6 feet and additional safety and health precautions are being planned. The annual event features up to three "Living Legends" of New Braunfels, according to Trust President Teressa Johnson.
Trustees met July 28 and finalized the plans for the luncheon, including a virtual option, should conditions warrant on October 19. Seating in the ballroom of the New Braunfels Civic Convention Center will be limited to less than 120. CDC protocols will be followed and the meal will be served by a caterer. Six sponsorship levels are being offered, including one Feier or Celebration Sponsor, four Legende or Legend Sponsors (Brightstar and CGT committed), four Stipendium or Scholarship Sponsors (Wayland Baptist University and GVEC committed), four Schuler or Student Sponsors, Tisch or Table Sponsors, and Barone and Baronesses Tisch or Baron and Baroness Table Sponsors. Individual or Sitz opening seating is an option for attendees. For details contact Debbie Meek at BFTDebbie@outlook.com or 830-708-2906. 
Attendees will receive a commemorative magazine featuring the latest Living Legends as well as past honorees and accomplishments of the Trust in 2020. David Ferguson with the City of New Braunfels will be the emcee the luncheon.