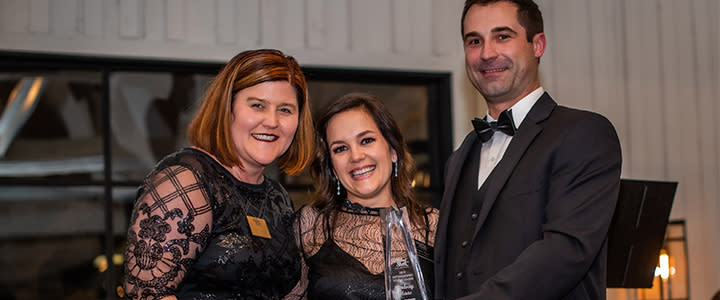 At the Rising Stars of New Braunfels Gala on January 17th, Lindsay Haas was honored with the 2019 Distinguished Young Leader Award. The gala celebrated 20 individuals under the age of 40 who were named the 2019 class of Rising Stars of New Braunfels. The awards program and gala were hosted by the Greater New Braunfels Chamber of Commerce, the New Braunfels Jaycees, and the New Braunfels Herald-Zeitung.
Intense review of all qualified applications was conducted by a Selection Committee to find the 20 Rising Stars. To be considered for the award, the individual must be under the age of 40, live or work in New Braunfels, and have made significant contributions to the community through continued success in their professional or community service activities.
The 2019 Distinguished Young Leader Award was a special honor that was meant to recognize one of the Rising Stars for standing out above the crowd for their significant accomplishments in their career and meaningful contributions to our community. The recipient is the epitome of a Rising Star, servant leader, and role model. The recipient of the award was kept confidential until the announcement during the gala which was made by 2018 Rising Star and Distinguished Young Leader Award recipient Allison Humphries.
Haas is an Advisor with Hoffmann Financial Services and a graduate of Texas Tech University. She is a member of the New Braunfels Jaycees, has served in several volunteer positions with Saints Peter and Paul Catholic School, is the Scholarship Chair for the Texas Tech Alumni Association of Comal County, is a Baroness with the Braunfels Foundation Trust, and a member of the Rotary Club of New Braunfels.