Lilia Marek was born and raised in the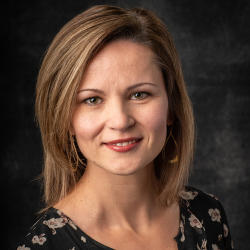 former Soviet Union republic of Moldova and grew up speaking Romanian and Russian. At the age of 15, she came to New Braunfels as a Rotary youth exchange student and spent a year at New Braunfels High School while being hosted by three wonderful families. She came back to Texas a few years later to attend, and graduate from, Texas State University in San Marcos. After earning her Bachelor's degree in Marketing and working in Austin for a few years, Lilia went to Houston to attend, and graduate from, the University of Houston Law Center. She began her legal career as judicial intern to Judge Nancy F. Atlas at the U.S. District Court for the Southern District of Texas and, after graduating and taking the Texas State Bar, as a Labor and Employment Associate in the Houston office of the international law firm Jones Day.
While in Houston, Lilia met the love of her life, Paul Marek. Together they traveled the world until they decided to move back to New Braunfels and start a family in Lilia's "home-town."  She is currently a Partner Attorney at Rougeux & Associates PLLC, defending business owners in a wide variety of employment litigation, partnering with clients to develop strategic responses to their employment law needs, and providing management with the tools needed to achieve sustained economic growth.
Lilia loves the New Braunfels community and is always looking for ways to give back to it while raising her three young children: Liana, Maia, and Luke. The family attends Sts. Peter and Paul Catholic Church and stays involved in various ministries. Lilia remains passionately involved with the Rotary Youth Exchange Program. She is currently serving as co-chair of the Rotary Youth Exchange District Committee and is hoping that her children will one day become exchange students and be good ambassadors for their country.
Fun Facts:
What is your favorite holiday? Christmas has always been my favorite holiday! I love to celebrate with my family as we acknowledge the birth of Jesus Christ and thank God for the ultimate gift to humanity. Now that I am a mother, I also really love seeing the pure joy on my kids' faces when Santa comes to visit every Christmas Eve. One of these days they will realize that it's just their dad in a Santa suit. But for now, I savor those magical moments.
If you could have dinner with anyone, past or present, who would it be? I am always super happy to have dinner with my best friend and husband, Paul! We've been married for almost 10 years and I still have a lot to learn about him! But if I had to pick someone who is not as readily available, I would pick Mary, the Blessed Mother of Jesus. I have so many questions for her! I would love to talk to her about life, faith, and her son, but also to talk to her as a mom to another mom, seeking invaluable advice and counsel.
If you could have one super power, what would it be? That's easy – the ability to be in multiple places at the same time! All the busy moms out there will understand this one. Life is very busy and hectic at times, especially while raising a family and working in a full-time law practice. I would love to be able to savor some life moments and smell the roses without feeling guilty or like I am being pulled apart in too many directions.