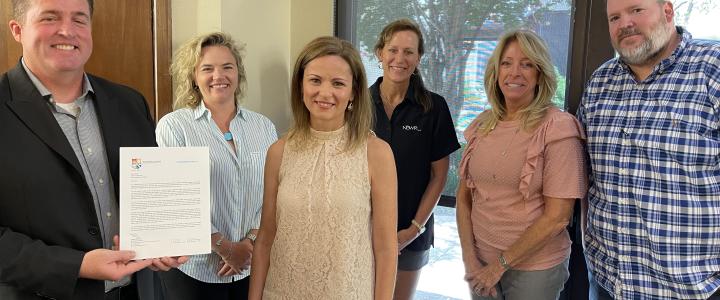 During the monthly Chamber Board of Directors meeting on Monday, July 19, Chair of the Board Nathan Manlove awarded Lilia Marek with the Chair of the Board Award in the field of organizational governance for her efforts leading the Chamber's Presidential Search Committee. This award is designed to honor individuals who have made a significant contribution to the community in a specific field of civic endeavor.
Lilia successfully led the effort of 12 volunteers in the Presidential Search Committee to find a successor to the Chamber President & CEO, pausing the process during the pandemic but restarting with a flourish January 15 when the position was posted.
Through Lilia's leadership efforts, the timeline was followed, and a fair and transparent process was adhered. Receiving nearly 180 applications, she led the effort through several phases including Zoom interviews, in-person interviews, reference checks, and more. Candidates frequently commented on the professionalism of the process. The committee turned over finalist candidates to the Executive Committee May 12, enabling them to successfully retain the new CEO.
The awardee is presented a letter from the Chair of the Board at a Board of Directors meeting, then presented a plaque at the Annual Chamber Banquet. The selection committee for this award is made up of the Immediate Past Chair, Chair of the Board, and Chair-Elect.