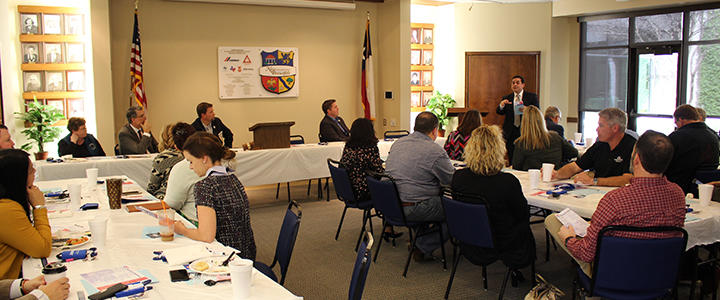 At today's Chamber of Commerce Board of Directors meeting, The Convention and Tourist Fund Audit was approved, two life memberships were awarded, an update on the 53rd Texas Legislative Conference was given and the City Bond was discussed.
The Convention and Tourist Fund received a clean audit and an unqualified opinion, meaning that the financial statements conform to generally accepted accounting principles and do not hide any important facts. The auditor noted that the Chamber's internal controls are very strong.
Blue Coats Britt Etheredge of Caliber Home Loans and Stephen Hanz of HMT Engineering and Surveying were awarded their Chamber Life Memberships.
Daniel Gonzalez, Texas Association of Realtors Director of Legislative Affairs and the Arrangements Chair of the Texas Legislative Conference, provided an update on the current activities of the Texas Legislative Session and on the upcoming conference. Gonzalez and Comal ISD Superintendent Andrew Kim discussed the property tax and school finance issues which have been made a priority of this legislative session. Kim explained that recapture, also known as Robin Hood, accounts for the fourth largest revenue source for the state and if not fixed, class sizes will increase, and programs and staff will need to be cut. Currently the state receives approximately $2.5 billion in recapture dollars and that is expected to balloon to more than $6 billion in 2023, making this an urgent matter for the legislature to address.
Gonzalez reviewed the Texas Legislative Conference agenda which includes an opening address, three consecutive panels: Changing Demographics of Texas, Property Taxes and School Finance, and Transitions in the Legislature, and concludes with a keynote luncheon. The conference will be held on March 21-22 at the New Braunfels Civic Convention Center and will kick off with a Texan of the Year Reception honoring Lamar Smith. More information and tickets can be found at www.TxLegislativeConference.com.
Lastly, Ian Perez discussed the City bond that will be included on the May 4th ballot. The bond includes citywide street improvements, additional street funding, all abilities park enhancements, a sports field complex construction, Fire Station #2 replacement, Fire Station #3 replacement, a new police department facility, and a library expansion for the Westside Community Center. The total price tag is being offset by $15 million from the New Braunfels Economic Development Corporation and $8 million from roadway impact fees.
Britt Etheredge and Stephen Hanz receive Chamber Life Memberships.