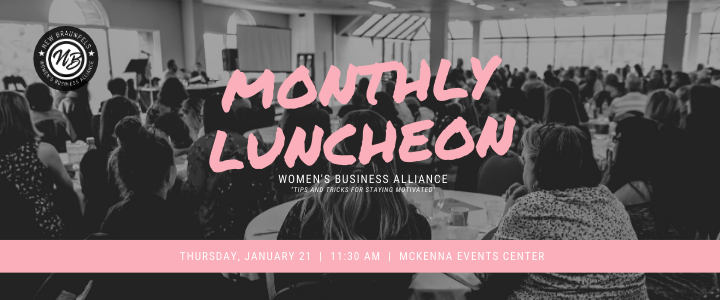 The Women's Business Alliance (WBA) will meet in-person Thursday, January 21 at 11:30 a.m. in the McKenna Events Center for their monthly luncheon. New Braunfels Chamber of Commerce Immediate Past Chair of the Board and Vice President of Bluebonnet Motors, Inc., Wes Studdard will be the guest speaker providing tips and tricks for staying motivated in the new year.



This luncheon is a great way to network and kick off the new year.
Anyone is invited to attend so bring a friend or colleague with you.
Boxed lunches will be provided, and each attendee is entered to win a raffle prize.
The New Braunfels Women's Business Alliance is a committee of the New Braunfels Chamber of Commerce. The mission is to increase success of women in business in the New Braunfels community through a forum of continuing education and networking. For more information on this committee, or any of the Chamber's committees, visit www.CommitteesInNewBraunfels.com.