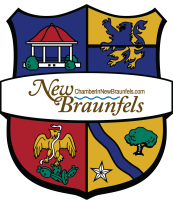 FOR IMMEDIATE RELEASE: August 24, 2018                                                             
CONTACT: Erica Clarke, (830) 625-2385, Erica@InNewBraunfels.com
LEADERSHIP NEW BRAUNFELS CLASS OF 2019 SELECTED
NEW BRAUNFELS, Texas – The Greater New Braunfels Chamber of Commerce announced today that the Leadership New Braunfels class of 2019 has been selected and approved with 30 business representatives making the roster. The 2019 class marks the 27th group of business and civic leaders to go through the program, which boasts an alumni association of more than 600.
Leadership New Braunfels strives to develop individuals to serve in leadership roles in their business careers and civic endeavors. Throughout the program, participants will have the opportunity to meet New Braunfels and Comal County leaders, build their leadership skills, and develop valuable relationships with their classmates.
The program consists of a series of one-day sessions, beginning in October, covering topics such as government, economic development, education, social needs, and other key segments of the community. Also in October, the class will participate in a Community Leaders Reception and a two-day, overnight retreat. In addition to attending the class days, participants will form teams to research a current economic or societal issue affecting New Braunfels and produce a research paper detailing the topic.
Participation in the program requires a serious time commitment and participants are expected to adhere to a strict attendance policy. Upon meeting attendance and participation requirements, the class members will participate in a graduation ceremony in May 2019 and become members of the Leadership New Braunfels Alumni Association.
Leadership New Braunfels 2019 Class Roster:
Kathryn Barton – Schlitterbahn Waterparks and Resorts
Stacy Berry – Bahama Buck's
Lucretia Bock – SVN / Norris Commercial Group, LLC.
John Boyd – State Farm Insurance - John Boyd
Stephen Brockman – Brockman Capital
Rusty Brockman – Cemex
Sylvia Camareno – Touch of Elegance Lashes and Day Spa
Kristen Carden – Otsuka America Pharmaceuticals
David Compton – New Braunfels Herald-Zeitung
Matthew Eckmann – City of New Braunfels
Marc Hamilton – Texas State University
Christina Hardaway – Judson Independent School District
Will Henry – Legacy Commercial Real Estate
Chester Jenke – Greater New Braunfels Chamber of Commerce
Connie Lock – New Braunfels Utilities
Maria Lomba – New Braunfels Regional Rehabilitation Hospital
Chris Looney – City of New Braunfels
Karen Mawyer – Rio Terra Retirement Community
Judah Owens – T Bar M Camps and Retreats
Cindy Pena Wild – Trinity Title
Andy Powell – Prosperity Bank
Brandy Russell – Resolute Health Hospital
Delia Saucedo – Crisis Center of Comal County
Micaeli Smith – Comal Independent School District
Travis Steel – Burch Law Firm
Ginger Taylor – Howard Payne University New Braunfels Center
Rebecca Villarreal – New Braunfels Independent School District
Clarissa Walker – Miller & Miller Insurance Agency
April Weilbacher – 2tarts Bakery
Chris Werk – Faust Brewing Co.