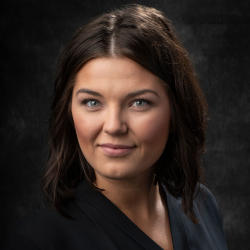 Laurel Davies is the Digital Media Coordinator for the Convention and Visitors Bureau, formally the Program Coordinator for Leadership and Small Business Programs within the New Braunfels Chamber of Commerce. Davies landed in New Braunfels, Texas in 2008 after spending previous years traveling around the states as part of a USAF military family. She is a Canyon High School alumnus and completed a dual degree in Marketing and Management at Texas Tech University.
Davies is a Jaycee, mentor for Communities in Schools, and a part-time instructor at Pure Barre New Braunfels. When Davies is not indulging in the before mentioned, you can catch her exploring all that New Braunfels has to offer from casual outdoor hangs to nights downtown or spending time with her fur baby, Benson.
Fun Facts: 
If you could have one superpower what would it be? Teleportation! Aside from traveling all over the world in the blink of an eye, those few extra minutes of sleep in the morning would be a bonus -- which is practically a superpower of its own.
Favorite flavor of ice cream? Blue Bell Ice Cream Cone -- it's a seasonal flavor I look forward to every year!
If you could go on a free vacation anywhere in the world, where would you go? Abu Dhabi. You know, because Carrie Bradshaw.