Laurel Davies is the Program Coordinator for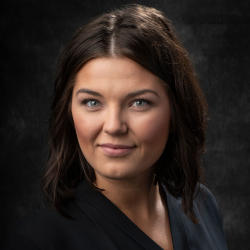 Leadership and Small Business Programs at the New Braunfels Chamber of Commerce. She grew up in a military family, but landed in Garden Ridge, Texas in 2008. She graduated from Canyon High School before continuing her education at Texas Tech University where she obtained a dual degree in Marketing and Management.
During her time at Texas Tech, she acted as Community Service Coordinator before taking her role as First Executive Vice President for a student run organization called Women in Business. She believes her passion for small business serves her well as she assists like-minded individuals in her current role at the Chamber.
When Davies is not working, you can catch her instructing classes at Pure Barre New Braunfels or bowling on a 9-pin league at Freiheit Bowling Club. She enjoys exploring all that New Braunfels has to offer, from outdoor hangs to nights downtown, and spending time with her two fur babies, Benson and Benelli.