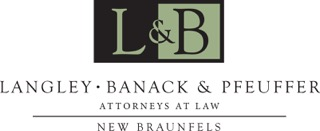 San Antonio law firm Langley & Banack, Inc. announced today they have launched a new podcast featuring in-depth discussions and stories based on cases from the field. The first series focuses on fiduciary litigation, hosted and produced by attorneys Chris Hodge and Jobe Jackson.
Each Langley & Banack Law Podcast treats listeners to in-depth discussions about litigation that involves will and trust clashes, power of attorney contests, declaratory judgements and guardianship challenges. Together, Hodge and Jackson dive-in and examine compelling cases and approaches to this area of the law using real world examples and high-profile guests who add to the conversation. The cases will no doubt share insights that solo practitioners and boutique firm members find both interesting and useful.
"Ultimately, we think the content is beneficial for attorneys not practicing in this area of the law but captivating enough that anyone could enjoy the conversations," said Hodge, an experienced fiduciary litigator who in 2015 obtained the second largest jury verdict for Trust and Estate Litigation in Texas.
Langley & Banack Law Podcast is available on iTunes and Stitcher; visit https://www.langleybanack.com/series/ to learn more.