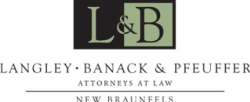 Langley & Banack, Inc. Announces Expansion of New Braunfels Office with Staff Additions and New Name
 Four New Braunfels Natives Join Together to Form Langley · Banack & Pfeuffer
Contact: Katy Corrigan
Director of Marketing kcorrigan@langleybanack.com
(210) 736-6600
SAN ANTONIO (June 27, 2019) – Langley & Banack, Inc., a full-service San Antonio law firm, has expanded its New Braunfels office with the addition of attorneys David Pfeuffer and Carrie James. They join Shareholder Justin Morley and Valin Woodward to make up the New Braunfels practice Langley · Banack & Pfeuffer.
The New Braunfels office, which opened January of 2016, is headed by Morley, who along with Woodward, provide counseling in family law matters, probate and guardianship law, probate litigation, estate planning, will preparation, temporary and permanent guardianship, medical powers of attorney and more.  Mr. Morley is Board Certified in Family Law.
David Pfeuffer, a New Braunfels native, has practiced law in New Braunfels for 26 years with Ken Brazle until he left amicably to join Langley & Banack in May.  Pfeuffer, a Shareholder with the firm, focuses on real estate and business transactional matters and litigation involving a broad variety of commercial matters and family law.  Additionally, he handles probate matters and litigation relating to trusts and estates. Pfeuffer is a graduate of Texas A&M University, earning a B.B.A. in finance in 1987, and a J.D. from Baylor University School of Law in 1991.  
Also joining the firm as Of Counsel is Carrie James. James is board certified in Family Law by the Texas Board of Legal Specialization. She has relocated to her hometown of New Braunfels from Houston/Conroe where her primary focus was litigating complex divorce cases involving contested property division and high conflict custody cases between parents and non-parents.
While James continues to handle complex divorce cases, she also facilitates transactional property matters including negotiating and drafting premarital and partition and exchange agreements, as well as contested child custody, support, enforcement, modification, and termination matters. She also assists clients with preparation of wills, advanced directives, durable powers of attorney, and medical powers of attorney.  James graduated cum laude from Texas State University for her undergraduate degree and she also graduated cum laude from South Texas College of Law for her J.D.
"The explosive growth in Central Texas compelled Langley & Banack to expand our services, and we could not be happier that two exceptional attorneys with deep roots in the community have joined our team and formed a new group," said Steve Brook, Langley & Banack's managing partner based at the firm's San Antonio headquarters.
"More than ever, clients in New Braunfels have seamless access to the comprehensive resources of Langley & Banack's San Antonio office while enjoying the firm's extensive areas of expertise locally," said Brook.
Langley · Banack & Pfeuffer is the only full-service law firm in New Braunfels. It is located at 170 East San Antonio Street; the office phone number is 830-387-2587.
The four attorneys that make up the New Braunfels office are all very active in both law and civic matters and are ready to assist clients with the highest quality legal representation. 
For more information about Langley & Banack, visit the firm's website at www.langleybanack.com.  
# # #