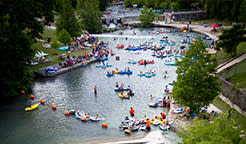 With Labor Day Weekend behind us, today marks the unofficial start of fall and the end of the summer tourism season. Soon we'll be donning (light) jackets and the sound of oompah music will be floating through downtown.
Labor Day weekend in New Braunfels was softer than expected due to the impact from Hurricane Harvey. It was a great weekend to beat the heat and the lines at the number one waterpark in the country, Schlitterbahn! The long weekend provided a lighter weekend for City staff than expected and there were few, if any issues. Attractions reported steady attendance and hotels had a fairly good weekend. Some lodging properties still have some evacuees staying with them until they can get back to their communities.
The Chamber's Convention & Visitors Bureau is already deep into fall/winter promotions and has secured the majority of its advertising placements for the next fiscal year.