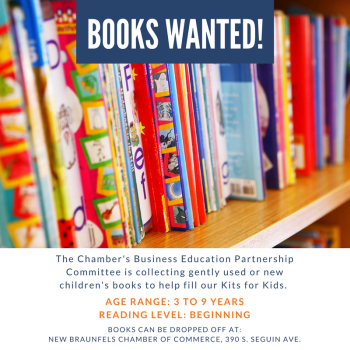 The Chamber's BEP committee will meet for their final meeting of 2017 on December 14, at 7:30 a.m. in Honors Hall. Chris Snider, of Texas Tito's, will preside at his final meeting as BEP Chair. There will be brief reports on programs and activities sponsored by the BEP.
The committee members will then stuff more than 500 Kits for Kids that will be delivered to local agencies and schools for distribution. This program is in its 9th year of sharing children's books and parenting information with families of young children.
The Chamber has been collecting gently read children's books that parents and guardians can read to preschool to 4th grade age children. Over the past years, the BEP has prepared and delivered more than 6,000 Kits for Kids to local agencies that provide the bags for clients or patients. If you would like to donate books, please deliver them to the Chamber by no later than 5:00 p.m. on Wednesday, December 13.
For more information about the "Kits for Kids" program or where to drop off books, contact Rusty Brockman at (830) 625-2385.