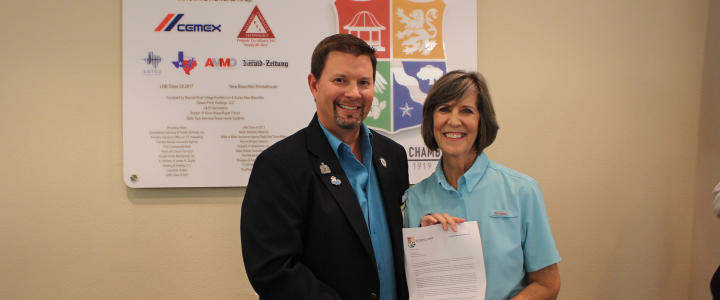 At today's Chamber Board of Directors meeting, Jan Kingsbury received the Chair of the Board Award in the field of Tourism Development for her efforts in the New Braunfels community. This award is designed to honor individuals who have made a significant contribution to the community in a specific field of endeavor, and no more than six recipients may be named in a calendar year.
Kingsbury grew up in the Houston area and went to high school in Beaumont before attending Lamar University where she earned a Bachelor of Science and a Master's Degree in Education. She taught for 15 years in East Texas before taking a counseling job with Comal ISD in the early 2000's and retired from the district in 2009.
Growing up, her family has traveled through New Braunfels on their way to Garner State Park since 1959. They would always stay for a day to float the Comal River and visit with friends, where Kingsbury realized her love for New Braunfels. After going on a walking tour in San Francisco with her four sisters, she started Spass Walking Tours in 2013 to show people what a special place New Braunfels is. In 2017 she and her husband started Do New Braunfels Concierge Service to provide visitors with assistance in finding things to do in New Braunfels year-round.
She is an active volunteer in the community, serving on the 175th Historical Committee, Texas Historical Arts Museum, Sally M Kingsbury Sarcoma Research Foundation Board of Directors, and Vice President of the Downtown Association. She also volunteered with Communities in Schools of South Central Texas, and earned her Blue Coat with the Chamber of Commerce in 2018.
For these reasons and many more, Kingsbury is the fourth recipient of the Chair of the Board Award of 2019. J.P. Medina was honored in the field of youth development in April, and in July Dr. Whitney Mitchell was honored in the field of education and Ian Perez was honored in the field of community improvement. Kingsbury and her husband Tim will be invited as special guests to the Annual Chamber Banquet on January 31, 2020 where they will be further honored.