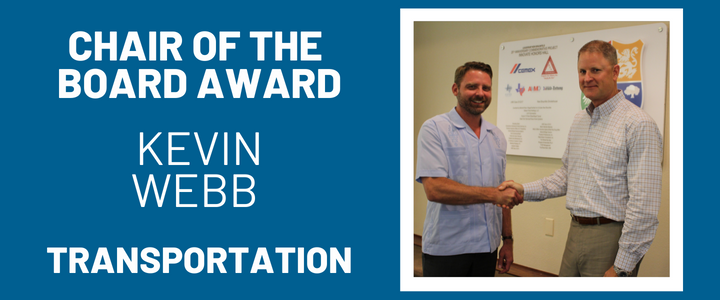 During the monthly Chamber Board of Directors meeting on Monday July 18th, Chair of the Board Ian Taylor awarded Kevin Webb with the Chair of the Board Award in the field of transportation. This award is designed to honor individuals who have made a significant contribution to the community in a specific field of civic endeavor.
In Webb's tenure as Commissioner, he has been a regional leader in transportation and is the current Chairman of the Alamo Area Metropolitan Planning Organization (AAMPO) - the first from outside of Bexar County. Kevin Webb has worked on many projects at the County with a focus on public safety, county infrastructure, and supporting the County's employees so they can best serve its citizens. Webb continues to work with area partners to try and preserve open space and protecting what makes Comal County the beautiful place it is. 
The awardee is presented a letter from the Chair of the Board at a Board of Directors meeting, then presented a plaque at the Annual Chamber Banquet. The selection committee for this award is made up of the Immediate Past Chair, Chair of the Board, and Chair-Elect.