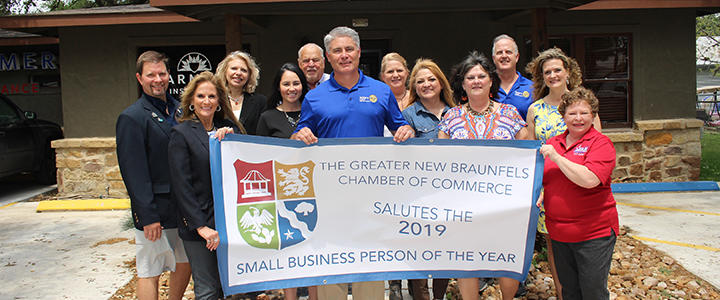 The Chamber is proud to announce that J.P. Kesselring, Agent & Owner of Farmers Insurance Office of J.P. Kesselring, has been selected as the 2019 Small Business Person of the Year. The announcement was made Wednesday, April 17 when members of the Chamber's Executive and Small Business Week committees made a surprise visit to Kesselring's office with the announcement.
After leaving the corporate world to pursue his dream of building his own business, Kesselring opened his Farmers office in 2002. It was a risky endeavor with two young children at home but through the many highs and lows encountered over the years, Kesselring has stuck true to his motto, "through adversity comes success."
"My agency has encountered many peaks and valleys over the years due to market pressures and catastrophes, but the catastrophic events are where my team and I shine," said Kesselring. "I always say that if someone has a serious claim with us they will never leave us because that's when they realize they are really getting what they pay for. We are committed to treating our clients like extended family so when bad things happen to them they know they can reach me day or night."
As a result of his commitment, Kesselring's team has been named the District's Agency of the Year six times, he has been named to Topper Club (top 5% of agencies in the company) 14 years, Championship (top 3% of agencies in the company) five years, and the prestigious President's Council (top 1% of agencies in the company) in 2015 out of more than 12,000 agencies in the company.
In addition to operating a successful agency, Kesselring has made it a priority to be involved in the community. He has been a member of the New Braunfels Chamber of Commerce since 2007, serving as a Chamber Board Member, and is an active Chamber Blue Coat Ambassador. He also serves as the President of the New Braunfels Rotary Club, on the board for Serve Outdoors Non-Profit, is a Kleine Opa for the Wurstfest Association, and is a musician with musical ministry at Gruene United Methodist Church.
Since 1990, the Small Business Person of the Year award has recognized the outstanding contributions of small business people to the economy and overall progress of the New Braunfels trade area. To be eligible for nomination, the business person must be a member of the Greater New Braunfels Chamber of Commerce, own their business, exhibit community involvement, and employ less than 50 employees, all for the last five years.
Small Business Week will be celebrated locally and nationally May 5 through May 11. During the week posters will be displayed in local businesses, and the public will be encouraged to shop local and use #SBWNB on social media to show their support. The community will be asked to wear yellow on Friday, May 10 in recognition of all business owners. Kesselring will be recognized as the 2019 Small Business Person of the Year through proclamations made by the New Braunfels City Council and the Comal County Commissioners Court. He will also be honored at a reception sponsored by Randolph Brooks Federal Credit Union.