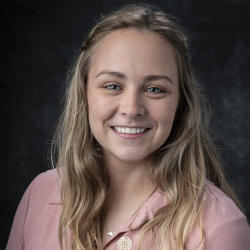 Kellie Serrano serves as Guest Services/CVB Support for the Chamber. Kellie's duties include educating visitors on the city's history, attractions and businesses, managing events on the CVB's online calendar, magazines across Texas, and following up on all mail leads. Kellie enjoys working with people and making sure everyone leaves with all of their questions answered.
Kellie was born and raised right here in New Braunfels, she graduated from New Braunfels High School. After high school Kellie became a flight attendant and moved to Virginia for a few years. She decided to move back home and opened a food truck business with her husband. In July of 2019 their son Jaxton was born, he is full of life and always so happy.
When not working Kellie loves being with her family and baking.
Fun Facts:
What is your favorite flavor of ice cream? Chocolate chip cookie dough 😊
What is one thing on your bucket list? To go skydiving!
If you could have one free vacation, where would you go? Thailand