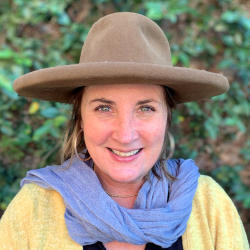 Kat Kyle Balmos is currently the owner of two stores in downtown New Braunfels: Lot 59 & The Local.
Kat graduated from Canyon High School in 1987 and went on to graduate from Austin College in Sherman, Texas in 1991.
Kat's retail career spans 32 years. After college, Kat was hired by national retailer J.Crew to help with their expansion into Texas. She opened their first store in Dallas at North Park and then the Houston Galleria. In 1993 she was recruited by retailer Abercrombie & Fitch to begin its national expansion. Over the 8 years she was with A&F she held many positions, District Manager, Regional Mgr, Director of New Store Openings and National Director of Recruiting. During her time with A&F she lived in Dallas, Houston, Minneapolis, DC, Chicago, Columbus, Denver, & Scottsdale.
Tired of excessive moving & traveling she left A&F to start a family and then found her way back to her hometown of New Braunfels in 2005.
She is a 6th generation New Braunfelser and a descendant of one of the founding families.
She is the daughter of Betty Kyle and sibling to Matt Kyle, Scott Kyle and Jennifer Kyle Hernandez all who reside in NB.
She has a daughter (Kate) who will be attending SCAD (Savannah School of Art & Design).