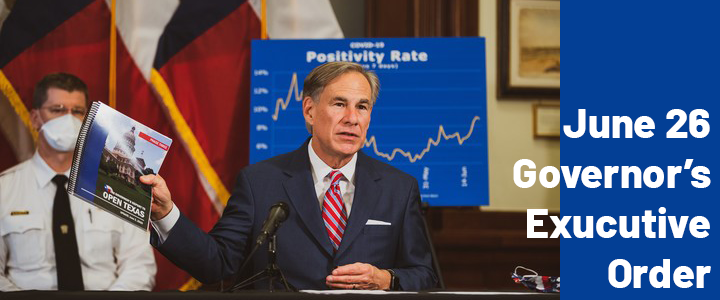 Governor Gregg Abbott issued an executive order on the morning of Friday, June 26, in response to the rate of COVID-19 positive cases extending over 10% in Texas.

The order states that that all bars and similar establishments making more than 51% of their profits from the sale of alcohol must close at 12:00 p.m. on Friday, June 26. All commercial tubing and rafting companies must close at noon on Friday as well.

In addition, restaurant capacity is going down to 50% of listed indoor occupancy on Monday, June 29. Outdoor gatherings, other than the ones listed in paragraphs 1, 2, and 4 of the Governors Executive Order, of over 100 people are not permitted. 

The Governor urges Texans to do their part by following good hygiene and social distancing practices especially those set forth by the Texas Department of State Health Services.

For more information, view the Governor's Executive Order (GA-28).