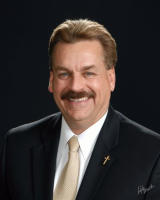 By Mark Hampton, 2014 Chair of the Board
Today is the first day of June. Kids are excited to be out of school for a few months, and parents are planning summer activities to keep their children busy and entertained. For many families, these activities include trips out of town and in some cases, out of state. These trips are fun and create memories that last a life time.
New Braunfels is a destination trip for many out of town or out of state visitors. For decades, many families have made New Braunfels a part of their family vacation package. They have chosen our city as the place they plan to spend time and create their own lasting memories.
For those of us who call New Braunfels home, we are fortunate to live in what is known as "the Oasis of Texas".  A community nestled around two rivers and at the foothills of the Texas hill country. Our business community has grown to enhance these qualities that God has provided us. It is no wonder why our area is one of the fastest growing areas in the country.
As you look around our community and see all the growth, you realize that our economy is more diversified and not totally dependent on the tourism industry. But let's not overlook the significance of the tourism industry. Tourism is a $531 million industry in our community. For every dollar in room tax revenue invested in marketing by our CVB there is an additional $9.33 generated for our city. The tourism industry supports 7,321 jobs. These jobs generate over $150 million in local wages. The local tourism industry makes up 26% of our local employment and 21% of our retail sales. The hospitality industry contributes $14.5 million in revenue into the city budget. As property owners, we should be thankful for this because it contributes to help keep our property taxes at a reasonable rate.
But as I mentioned, our local economy is diversified. Later this month, Resolute Health will open its doors. This new hospital and wellness campus has been a key factor in the activity and growth within the Creekside development. A new development of office buildings known as The Creekside Professional Plaza is opening across the street from the Resolute Health campus. These office buildings are part of an even larger development known as The Village at Creekside. This larger development will offer numerous new buildings for retail, restaurants, a bank, a pharmacy, apartments, hotels and other business office buildings. So, the next time you are shopping at the New Braunfels Town Center at Creekside, take a minute and drive by these new facilities. This and other developments in and around New Braunfels have come about by local developers, investors, engineers and contractors working together as a team. Their teamwork has helped create success that will pay dividends now and in the future for New Braunfels.
A final note – The Greater New Braunfels Chamber of Commerce has promoted "Shop New Braunfels First" as a slogan we utilize at each ribbon cutting. By shopping locally, you help create jobs within our community and keep your tax dollars locally. So, in a sense, you are investing in your own community. So, when you and your family are planning activities, remember there are plenty of opportunities to shop, play and relax in our own "backyard".  Remember, SHOP NEW BRAUNFELS FIRST.